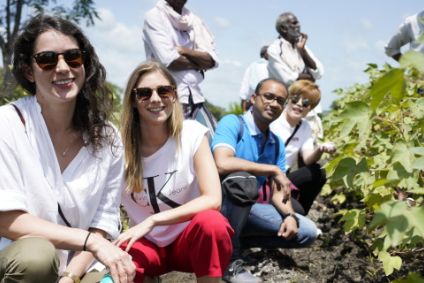 US apparel giant PVH Corp is shaking up its Calvin Klein business, including streamlining its North America division – and has updated its outlook for the rest of its financial year.
Steve Shiffman, CEO of Calvin Klein Inc, a wholly owned subsidiary of PVH Corp, yesterday (10 January) said the changes at the unit include a new name, design approach and creative direction for the Calvin Klein 205W39NYC line, as well as the shuttering of its flagship store on Madison Avenue in New York.
In its North America division there will be consolidation of the men's Calvin Klein Sportswear and Calvin Klein Jeans business to strengthen the brand's positioning. The Calvin Klein retail and e-commerce teams will also be integrated to create an omnichannel approach.
The moves are intended to enable the brand to run a more modern, dynamic and effective business, as well as allow reinvestment. But the restructuring will incur pre-tax costs of around $120m over the next 12 months, primarily consisting of severance, inventory markdowns and allowances, asset impairments, and lease and other contract termination expenses.
The announcement comes as Calvin Klein is working toward reaching US$12bn in global retail sales over the next few years.
The company says the new – and as yet unnamed – Calvin Klein 205W39NYC business will connect directly to all of the other Calvin Klein brands and amplify each category with "unique products and experiences." The relaunched business aims to move past the traditional luxury fashion model by connecting with a range of communities, offering an "unexpected mix of influences and moving at an accelerated pace."
Finally, the Calvin Klein leadership team will take a digital-first approach, with a newly formed 'Consumer Marketing Organization (CMO)' to accommodate the rapidly changing demands of today's consumers, with highly specialised teams focused on new areas including consumer engagement and shopper experience.
"Our industry is witnessing a historic transformation in consumer behaviour which presents a significant growth opportunity as we look to grow the brand to $12bn in global retail sales over the next few years," said Shiffman. "Now more than ever, we must double down on meeting consumer demands by creating culturally relevant products and experiences that engage communities by pushing fashion and culture forward."
The news comes as parent company PVH raised its fourth-quarter and full-year profit forecast, now expecting revenue to be at least $2.4bn and $9.57bn, respectively, which is above its plan.
The company also revised its projected fourth-quarter and full-year 2018 earnings per share outlook and now expects its earnings per share on a non-GAAP basis for the fourth quarter 2018 to be at least $1.75, which is $0.15 per share above the high end of its guidance range previously announced in November. Full-year 2018 earnings per share on a non-GAAP basis are forecast to be at least $9.50. The forecasts excludes, among other things, the pre-tax costs expected to be incurred in connection with the Calvin Klein restructuring and the resulting tax effects.
"Our improved 2018 outlook reflects the power of our diversified global business model," said PVH CEO Emanuel Chirico. "Specifically, we are experiencing outperformance across all of our businesses relative to our previous guidance, despite the increasingly volatile macroeconomic and geopolitical environment."