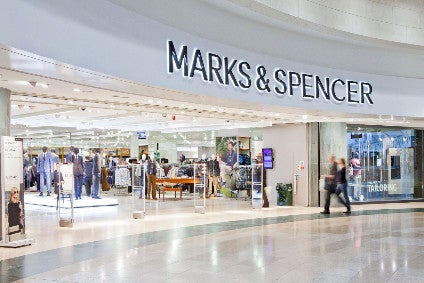 UK department store Marks & Spencer has posted another sales fall in its clothing and home division in the third quarter, prompting CEO Steve Rowe to reassure it is still on track with its transformation programme aimed at getting the business back to profitable growth.
The high-street giant reported a 4.8% (2.4% like-for-like) fall in sales to GBP1.1bn (US$1.4bn) for the 13 weeks to 29 December.
Back in November, on announcing a second-half drop in sales of 2.7% (1.1% LFL) in its Clothing and Home arm, which it attributed to store closures, M&S set out steps to return the business to profitable growth. The move specifically targeted its "weak" supply chain and followed on from a transformation programme it announced in May last year following a full year profit slump of 74.8% to GBP29.1m, mainly due to falling sales.
The "restoring the basics" plan aims to create fewer, better clothing and home stores, which will be larger, digitally enabled, better located and more inspirational for customers to shop.
CEO Steve Rowe today said the programme remains on track. "Against the backdrop of well publicised difficult market conditions our performance remained steady across the period. The combination of reducing consumer confidence, mild weather, Black Friday, and widespread discounting by our competitors made November a very challenging trading period. However, overall our 13-week performance was steady with some early encouraging signs.
"In Clothing & Home, we are at the early stages of far-reaching changes in range, in style, customer focus and channel mix. Our objective is to reshape our buy, deliver market-leading value and focus on stylish and wearable wardrobe "Must-Haves" as we grow our business with family aged customers seeking style, quality and value.
"Improvements to our online proposition and operations helped us to mitigate lower footfall to stores resulting from, in part, the increasing pace of change in the store estate."
The online story for M&S seems more positive, with UK Clothing and Home revenue up 14% thanks to an increased focus on digital marketing together with improvements to its delivery proposition. In particular, womenswear online "significantly outperformed driven by areas including dresses and knitwear."
In its International arm, sales fell 15.1% to GBP262m, which M&S said was down to the sale of its Hong Kong business and store closures in loss-making markets.
Group-wide, which includes the results from its food arm, sales fell 3.9% to GBP3bn.
Richard Lim, chief executive of Retail Economics, says the results were worse than expected. "It's increasingly evident that Christmas is becoming an online event and these figures reaffirm the polarisation of shopping habits with online propping up the poor performance of their store sales. This accelerating trend has benefitted the retailers that have the scale, capacity and seamless online operations to cope with the peak in demand over Christmas and M&S is struggling to keep up.
"Put simply, the retailer is burdened with too many stores, unsuitable space and the spiralling operating costs associated with this outdated business model. As a higher proportion of sales move online, the cost of fulfilling these orders are rising too. Set against the backdrop of fragile consumer confidence, it's a difficult place to be.
Clive Black, director, head of research at Shore Capital, shared a more optimistic note. "For much of the last 12-18 months we have been writing about announcements and pending appointments. That the new team is now in place and on the job, therefore, is progress to us. That team is tasked with leading cultural and operational change, which in due course, it is hoped, will drive a sustainably better financial course for the group.
"M&S has been a troubled group for some years, perpetually under-performing and disappointing but also retaining promise of something better at the same time. Q3 FY2019, therefore, is another quarter of mellow trading from the retailer. As is often the case, when the chips are down, little goes one's way and the backdrop to third quarter out with the Group's control was certainly very challenging, as evidenced by the recent narratives of so many British retail leaders.
"Beyond the relatively narrow terms of Q3-4 FY2019 we believe that M&S has a good chair, CEO and CFO and a transformed senior management team that is now actually changing the group's culture, necessarily, for the better. More to the point, the change programme is now well into 'doing' mode with notable progress in Q3 online, in head office, human capital development and the food proposition.
However he adds, there is an "enormous amount of work to do" most specifically around the group's real estate, Clothing & Home, food logistics and online businesses.
"It remains the case that it will be the outcome of this plan that ultimately determines the trajectory of the group's financial performance and, again, all things being equal, its share price. We repeat, therefore, our expectation that it will take another 12-18 months for clearer progress to come through."