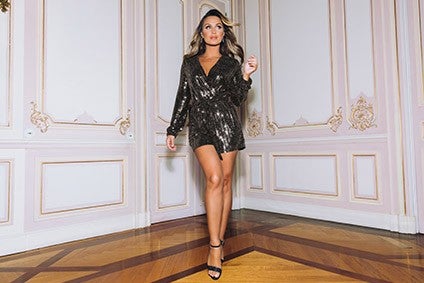 UK fast-fashion retailer Quiz has seen sales slide over the Christmas trading period with declines in both online and its brick-and-mortar revenue streams.
In a trading update today (15 January), Quiz said sales have softened relative to expectations since the Black Friday week and, as a result, group revenue for the seven-week period to 4 January decreased by 9.3%.
Sales at the company's UK standalone stores and concessions slid 7% as footfall at its brick-and-mortar locations was down on the prior year. Quiz did not provide an update of how its international stores fared over the period.
Online revenues also tumbled, sliding 14.8% overall. The decline was driven by Quiz's decision to terminate unprofitable revenue streams through a number of third-party website partners and weaker sales through some of its remaining partners.
The group did, however, continue to deliver growth through its own websites with revenues increasing by 5.9% in the period supported by improved full-price sell-through with less promotional activity than the prior year.
Gross margins, meanwhile, were broadly in line with expectations, while inventory continues to be "carefully managed" with current levels lower than the previous year.
Quiz added actions taken to improve gross margins, enhance efficiencies and reduce costs across the business have helped to largely offset the impact on profitability of the lower than anticipated sales in the period. As a result, it said the group's overall performance in the year-to-date remains broadly in line with the board's expectations.
While CEO Tarak Ramzan said it is "disappointing" to report a decline in revenues for the Christmas trading season, he added with the group's cash position, it remains confident that it can improve its financial performance and grow revenues.
"We have a clear customer focus and a flexible model that the board continues to believe will enable Quiz to adapt to the changing retail environment and return to profitable growth in the medium-term," he said.
Quiz operates more than 300 standalone stores, concessions, franchise stores, wholesale partners and international online partners. As at 4 January, it had 75 stores and 177 concessions in the UK.
What the analysts say
Pippa Stephens, retail analyst at GlobalData, notes despite Quiz's specialism in occasionwear putting it in good stead to thrive in the run-up to Christmas 2019, the retailer experienced a "disappointing" 9.3% step back in sales during the period, causing its share price to fall by almost 12% this morning.
"Deteriorating footfall negatively impacted its physical sales during the period, as it still operates a large concession portfolio with struggling department store Debenhams, its standalone stores fail to excite, and shoppers increasingly prefer the ease of making fashion purchases online."
However, she acknowledges Quiz's group digital revenue also suffered, suggesting the retailer must strengthen its presence on continuing platforms such as Next and Very.co.uk, by offering more options, and seek new partnerships with the likes of Asos to boost brand awareness and accessibility.
In addition, although revenue through Quiz's own website increased by 5.9%, Stephens says it must continue to improve its proposition, especially as it is experiencing increasing competition from online pureplays such as Boohoo and Asos.
Elsewhere, although the retailer already drives convenience by offering services such as Klarna payment and third-party pickup with Collect+, to encourage loyalty and more frequent spend, she notes it should reduce the cost of its QVIP delivery saver scheme (currently at GBP12.99), to make it more competitive with rivals, especially now In The Style has started offering lifetime delivery for only GBP7.99 and Boohoo is offering free Premier delivery (usually GBP9.99) for students.
"It must also make its website more visually appealing, with slicker navigation and more inspiring images, to encourage visitors to browse."
Stephens adds: "Quiz offered a blanket discount of 20% off for Black Friday and up to 75% off for Cyber Monday in 2019, however overall it reduced its promotional activity for the period versus last year, and increased full-price sell-through. Although this means gross margins were broadly in line with expectations, this was not enough to bring top-line revenue growth, as it was unable to compete with fierce discounting across the rest of the youth market."
As a result, she says Quiz must increase its full price appeal by strengthening its product ranges, with improved quality, an increased mix of smart casual styles and greater trend incorporation needed to become more attractive to its core 16-34 shoppers.
"Furthermore, greater advertising on social media and collaborations with more high profile celebrities are necessary to compete with the likes of In The Style and PrettyLittleThing, who currently manage to secure more well known and aspirational brand ambassadors."
Meanwhile, Greg Lawless, retail analyst at Shore Capital, says: "Overall another disappointing trading update from the Quiz Group. We note the outlook that the consensus forecasts remain "broadly in-line with the board's expectations" but highlight with three months until its year-end the risk could be on the downside still with falling revenues and too much retail footage and an online business in reverse gear."