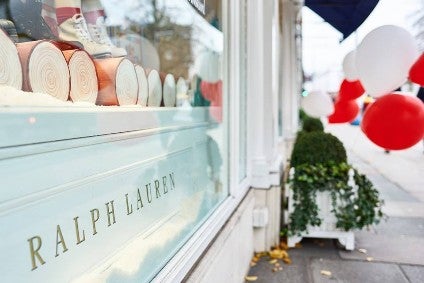 Ralph Lauren booked higher earnings and sales in its third-quarter, proving the fashion retailer's turnaround plan is taking hold, but said it is continuing to monitor the impact of closing half its store base in China amid the Coronavirus outbreak.
Shares in the fashion house were up by more than 8% this morning (5 February) as the company revealed an almost three-fold increase in earnings during the third quarter ending 28 December to US$334.1m from $120m a year earlier. Gross margin was 62.2% from 60.7%.
The retailer benefited from higher prices, a reduction in promotions, an improved product offering, and a ramp-up in marketing.
Net revenue edged up 1% to $1.8bn on a reported basis and was up 2% in constant currency, with growth across all regions led by Europe and Asia. Foreign currency negatively impacted revenue growth by around 60 basis points.
"We continue to make strong progress on our 'Next Great Chapter 'plan amid a volatile backdrop, with third-quarter results ahead of our overall expectations, including better than expected revenues, operating margin, and double-digit EPS growth," said CEO Patrice Louvet.
For the full year, Ralph Lauren said it expects revenue growth in the range of 2% to 3% on a constant currency basis. Foreign currency is expected to negatively impact growth by around 110 to 130 basis points.
"The outlook continues to include the impact of tariffs and business disruptions in Hong Kong but does not include potential impact from the coronavirus outbreak in Asia, given the dynamic situation that we are monitoring closely with regards to our employees, consumers, and supply chain," the company said in its trading statement.
Coronavirus impact
Hong Kong is expected to remain a near-term headwind, the firm said in its earnings call, particularly with the emerging impact of the virus.
Reports suggest the death toll from the outbreak has reached 490, with over 24,000 people known to have been infected.
"At this early stage, our guidance does not include potential impact from the coronavirus outbreak given the dynamic nature of the situation," CFO Jane Nielsen told analysts. "However, we are monitoring developments closely and will be transparent about the expected impact providing updates if needed.
"Hong Kong will have a more meaningful impact as we head into the fourth quarter. We've seen travel bookings deteriorate from the third to the fourth quarter and this is obviously a big quarter for Hong Kong, given that it was a Lunar New Year."
Between social unrest in Hong Kong and the coronavirus outbreak, Ralph Lauren currently has around half of its 110 stores closed in China, a country that represents around 4% of total revenue.
Louvet said the situation in China remains "dynamic". The company has been working over the last two years to diversify its supply chain, so that it is less dependent on one market, particularly China.
"We're in the middle of the Lunar New Year vacation. We'll need to see how employees return to the various factories post the vacation," he explained. "We are working on being as agile as possible and we'll make sure we make the best of the situation that we're dealing with.
"We can't lose sight of the human dimension of [it] all. This obviously is to make sure that our employees are safe, our consumers are safe and that we follow very closely the guidance both from the local and the global authorities on this health crisis."
Ralph Lauren is among a number of fashion retailers understood to have closed stores in China amid the coronavirus outbreak. Nike has also shuttered half of its stores in the region, while Adidas has also closed a "significant" number of its own stores in the country and says it is observing similar developments within its franchise business.
In addition, Hugo Boss has temporarily closed some stores with those still doing business having curtailed their opening hours.
Click here for additional insight: Is coronavirus a threat to the clothing industry?