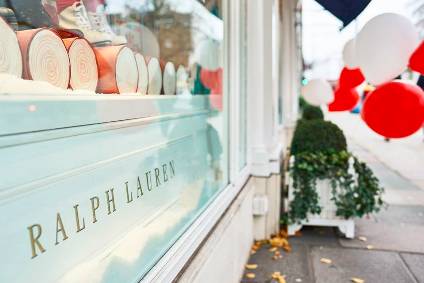 US apparel giant Ralph Lauren has delivered better-than-expected results for the third quarter, suggesting the firm's brand-building, product, digital and global expansion are finally on the right track.
In the three months to 29 December, the company reported net income of US$120m, compared to a net loss of $81.8m a year earlier.
Gross margin was 61.4% as reported, while on an adjusted basis, gross margin was 61.6%, 90 basis points above the prior year. The increase in adjusted gross margin was driven by initiatives to improve quality of sales through reduced promotional activity and improved pricing as well as favourable product and channel sales mix. Foreign currency benefited gross margin by 30 basis points in the third quarter.
Meanwhile, net revenues totalled $1.73bn, compared to $1.64bn last year, marking a 5.1% increase on a reported basis, and a 6.3% rise in constant currency, driven by positive results across regions. Foreign currency negatively impacted revenue growth by about 120 basis points in the third quarter.
North America revenue in the third quarter increased 3% to $909m, while in Europe, sales increased 10% to $415m on a reported basis and increased 13% to last year in constant currency. Asia revenue in the third quarter increased 10% to $275m on a reported basis and increased 11% in constant currency, with strong performance across every market, including 19% constant currency growth in Greater China.
"Solid execution on our key initiatives, especially during the important holiday period, delivered better-than-expected results for the third quarter as we drove higher average unit retail and continued to improve quality of sales overall," said CEO Patrice Louvet. "These results give us confidence that our strategic investments in brand-building, product, digital, and global expansion are on the right track, while the strength of our balance sheet will continue to be a competitive advantage as we manage through an increasingly volatile global environment."
Looking ahead, Ralph Lauren expects net revenue to be up slightly on a constant currency basis in fiscal 2019, but sees net revenue down slightly in constant currency due to a planned reduction in off-price sales in the fourth quarter.
Headed in the right direction
Neil Saunders, managing director of GlobalData Retail, notes after a long run of "fairly mediocre performance" Ralph Lauren has finally delivered a solid set of numbers.
"The growth in total revenue is pleasing as are the various regional outcomes. These were supported by a respectable increase in underlying comparable sales," he says. "Of course, it would be remiss not to note that the good figures have been delivered off the back of a very weak prior year performance, but this should not take away from the fact that the brand is now headed in the right direction."
In addition, Saunders says the company is doing a much better job at connecting with consumers.
"Brand affinity to Ralph Lauren was the strongest in over five years this holiday season; brand recall and awareness were also higher, including among younger consumers. Some of this is the result of increased marketing spend but, in our view, a lot of it also comes down to a more targeted approach. Initiatives like the launch of the Palace label have provided the brand with greater visibility among consumers looking for edgier, contemporary designs. There is clearly more work to be done, but this progress represents a good platform on which to build. That said, Ralph Lauren needs to remain disciplined; it should not revert to past form by launching rafts of sub-brands and spin-off labels which create confusion."
However, for all of this positivity, Saunders notes GlobalData is still cautious about the trajectory of the brand.
"While there is no doubt that Ralph Lauren is now in a much stronger position, a lot of work remains to be done on carefully defining the various parts of the offer and ensuring they remain targeted," he explains. "Because of the vast array of brand elements, this is a challenging task that could easily falter – especially as the economy tightens and the company laps some tougher comparatives.
"Overall, however, Ralph Lauren is on the right track, it just needs to stay on course as it accelerates."