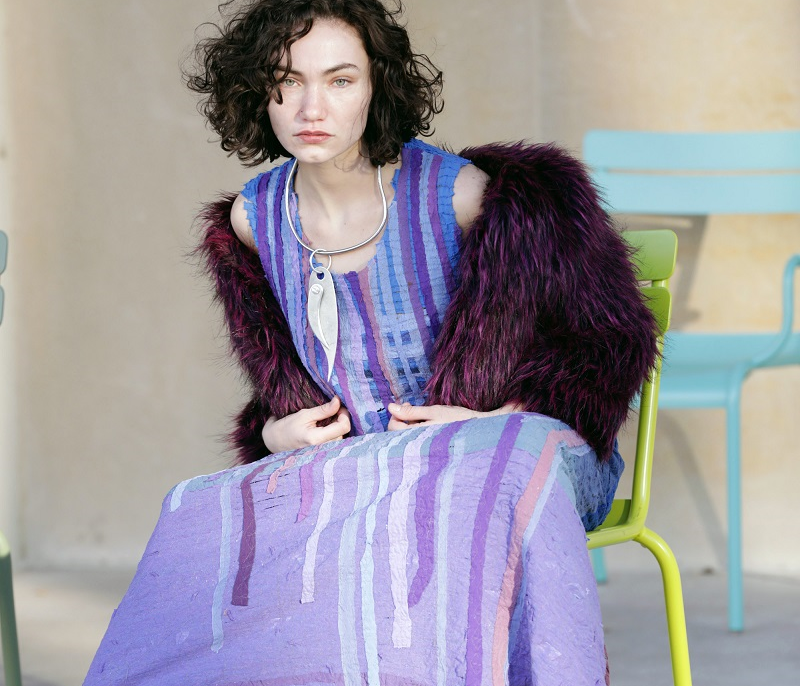 The associate professor and coordinator of the fashion design area at Washington University's Sam Fox School of Design and Visual Arts in St. Louis explains that about 15% of fabric destined for tailoring ends up as scrap on the cutting room floor. The aim of Reclem is to save those scraps she says, and reuse them to make new garments.
"This process takes scraps and raises their value. It's more interesting and brings more beauty to the world than, for example, just making wipe rags from old T-shirts," Ruppert-Stroescu told Just Style exclusively.
She says it's a shame to waste it and points out that right now, the fashion industry is doing a lot of good work around wages, working conditions and social justice. But, she says, textiles are the second-largest source of carbon emissions after oil, and clothing accounts for roughly 5% of all landfill. There's an enormous amount of waste.
She says: "The first step is to collect fabric and cut it into strips, squares or other small pieces." Re-spinning cotton is difficult and results in shorter fibres, so the Reclem method maintains as much structural integrity as possible.
Fabric pieces are placed, either by hand or by digital plotter, into a surface design within the shape of the garment's pattern. The positioned pieces are treated with an adhesive and a paper layer adhered to it to hold the positioned fabric pieces in place while they are stitched together. Then, the resulting sandwich is soaked to remove the paper and dissolve the adhesive. The resulting unified fabric is then available to be stitched together to form a garment.
"What is unique here is the entire sequence," Ruppert-Stroescu says. "There is no other process to break down a textile while maintaining its integrity; design a new piece within the pattern; sewing it together; dissolving it; and then sew the finished garment."
Ruppert-Stroescu says that the key is how the process could enable scalability in both design and manufacturing.
When cutting fabric, designers try to minimise waste by tailoring components to the dimensions of the bolt, but layouts are often constrained by the direction of the fabric grain. Because Ruppert-Stroescu's process involves shaping fabric, rather than cutting it, grain can be customised, and patterns can easily be scaled up or down.
"The process is scalable," she says, which means "more than one piece can be made of a style, and styles can be made in different sizes."
She adds: "Production of multiple pieces is also possible with automation. The process will not be for every company, because while it uses equipment and skills currently existing, it requires a different workflow from typical apparel cutting and sewing. It is only by disrupting the status quo will we be able to truly reduce the waste produced by the apparel industry, and only the brave and future-thinking companies will be willing to make the effort."
Ruppert-Stroescu also notes that compared to creating new cloth, Reclem dramatically lowers material costs while resulting in no loss of tensile strength, wrinkle recovery, water repellence, or abrasion resistance.