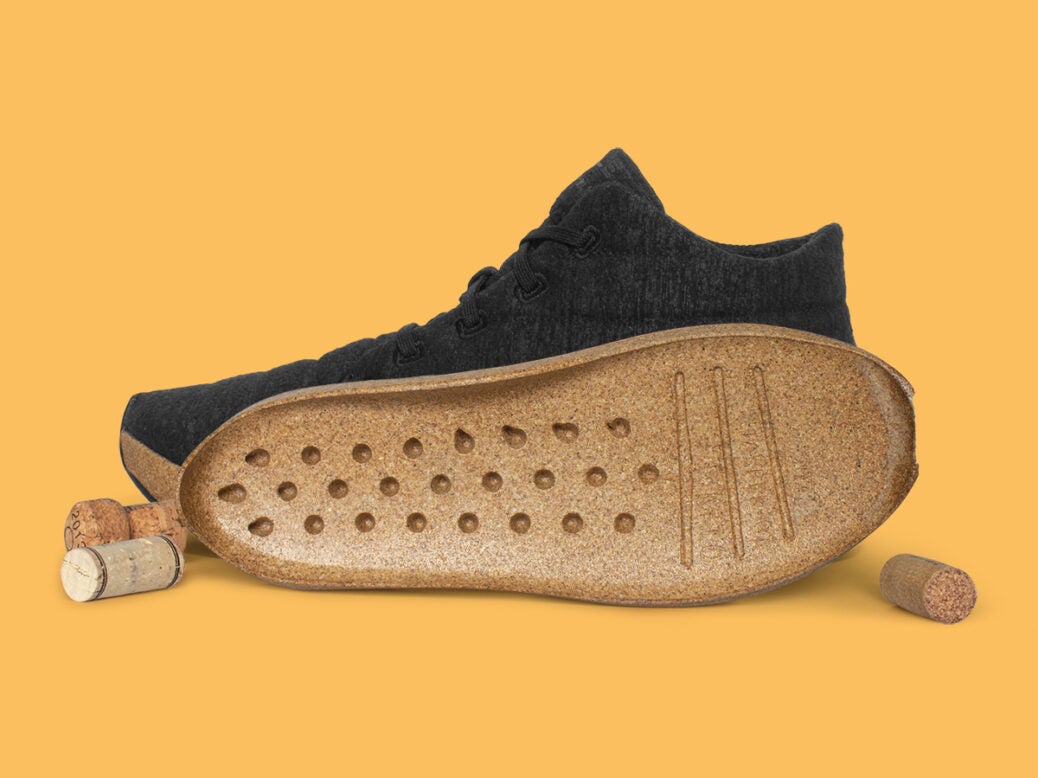 ReCork, the wine cork recycling programme owned by Sole, has developed a range of shoes produced using upcycled cork.
The brand is hoping to revolutionise the footwear industry by producing a material that offers all the functional benefits of a petroleum based foam, while consisting of more than 75% recycled natural cork. The first look at this new material will appear in the Sole x UBB Jasper Chukka shoe.
The footwear industry accounts for 700,000,000 kilograms of greenhouse gas emissions per year, making up 1.4% of all global climate impacts, according to Sole. Of those emissions, 34% are generated through raw material extraction and processing of fossil fuels to create synthetic materials like EVA and polyurethane foams.
Cork grows as the bark of the cork oak tree, sustainably harvested without cutting the tree down. To grow 1kg of cork, the tree absorbs an average of 55kg of CO2 from the atmosphere, meaning that natural cork represents 55 times its own weight in carbon sequestered, the company explains. This carbon sink means that even accounting for the processing and transport of the material, components made using ReCork recycled cork are carbon negative—each midsole pair has a footprint of -4.71kg CO2e, which means it removes 4.71kg of carbon from the atmosphere.
"This is something never seen before using cork," says Karla Peckett, VP of brand at SOLE. "Traditionally, cork-based footwear does not bend, twist, or withstand water, and cracks with too much strain. This is the only cork material that matches the functional qualities of petroleum foams. It is flexible, durable, lightweight, cushioning and water resistant."
This material is the product of thousands of hours of R&D by ReCork's team, which has been working toward this goal since the brand first started collecting natural wine corks in 2008.
ReCork is set to collaborate with notable global footwear partners eager to incorporate this material in sustainable footwear lines in 2023.