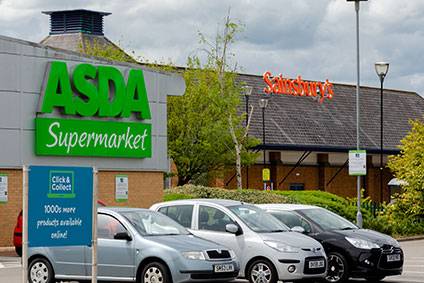 UK Government watchdog the Competition and Markets Authority (CMA) has blocked the proposed merger between supermarkets Sainsbury's and Asda after months of consultations, on the grounds such a deal would push up prices for consumers.
The retail groups first confirmed plans to merge in April of last year. The deal would have given the companies a bigger share than current market leader Tesco and created one of the UK's leading grocery, general merchandise and clothing retail chains, with combined revenues of GBP51bn (US$70.1bn) in 2017.
With more than 8m customers regularly buying its Tu clothing, Sainsbury's is the sixth largest clothing retailer by volume in the UK. If the tie-up had been granted the green light, coupled with Asda's successful George clothing line, the combined business would have stood as a competitor to the likes of UK value clothing retailers such as Primark.
However, in a statement this morning (25 April), the CMA confirmed it has blocked the merger after finding it would lead to increased prices in stores, online and at many petrol stations across the UK.
"It's our responsibility to protect the millions of people who shop at Sainsbury's and Asda every week. Following our in-depth investigation, we have found this deal would lead to increased prices, reduced quality and choice of products, or a poorer shopping experience for all of their UK shoppers," said Stuart McIntosh, chair of the inquiry group.
"We have concluded that there is no effective way of addressing our concerns, other than to block the merger."
Responding to the news, Sainsbury's CEO, Mike Coupe, said the CMA is "effectively taking GBP1bn out of customers' pockets". He added: "The specific reason for wanting to merge was to lower prices for customers. The CMA's conclusion that we would increase prices post-merger ignores the dynamic and highly competitive nature of the UK grocery market."
Roger Burnley, CEO of Asda, commented: "Asda's DNA is delivering low prices for hard-working families and that will never change. We were right to explore the potential merger with Sainsbury's, which would have delivered great benefits for customers and supported the long term, sustainable success of our business. We're disappointed with their findings but will continue to find ways to put money back into customer's pockets and deliver great quality and service in an ever-changing and demanding market."
"Impossible dream"
Patrick O'Brien, UK retail research director at GlobalData, notes the CMA's decision to block the merger puts pressure on Sainsbury's Coupe.
"Whatever the rights or wrongs of the CMA's decision, he appears to have wasted a year chasing an impossible dream while its competitors took full advantage of its distraction. Its results over the last year have been poor, with store standards falling noticeably, and it must now refocus on retail basics rather than chase another big acquisition."
He adds: "The confidence Coupe placed in getting the deal past the CMA in light of its previous – generous – decision to allow Tesco to buy Booker looks like a bad misjudgement now. Mike Coupe may feel hard done by, but the CMA made clear that the Tesco-Booker deal was passed because it considered the acquisition to be a vertical one, by a retailer of a wholesaler, and so viewed that the combination did not significantly damage the competitiveness of either market. The rights and wrongs of that decision are debatable but it looks difficult for Coupe to argue that the CMA's decision then is in direct contradiction of its decision regarding Asda/Sainsbury's now."
In addition, O'Brien notes: "We do not believe Walmart will want to keep Asda as it is now, and may look to sell Asda to other suitors, but it would look unlikely that other major players in the UK would consider it, given the strictness the CMA has displayed. "It opens the possibility of private equity or floating the business, or a foreign retailer entering the market. Amazon will always be speculated about, but we do not believe that taking on a major physical food presence in the UK fits with its strategy, despite the Whole Foods deal in the US, which was a distressed (i.e. cheap) business, more focussed on affluent customers."