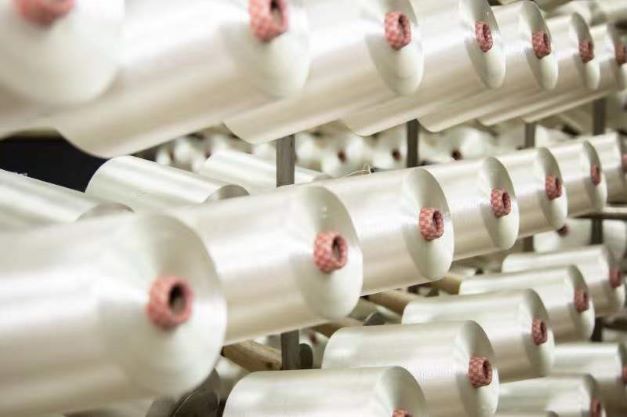 Renewcell has collaborated with Chinese viscose filament yarn producer Yibin Hiest Fiber Limited Corporation (Yibin), to use Circulose dissolving pulp in its viscose yarn production at industrial scale for the first time.
Renewcell, which makes fibres from waste textiles, believes this new advancement will open the door to new markets for Circulose in both activewear and luxury as the fibres produced can now be used as substitutes for both polyester and silk.
Waste to new fibres
This latest development sees the upscaling of the lab-based production of filament yarn previously completed with the German research institute Fraunhofer in 2020.
Based in Sweden, Renewcell is an award-winning sustainable fibre manufacturer who uses its patented process to turn cellulose-based textile waste into Circulose filaments.
Waste cotton and other natural fibres are dissolved chemically into a biodegradable raw material called Circulose pulp. This pulp is then forced through nozzles to make fibres which are spun into yarns for weaving. After further processing this can be used as high quality viscose or lyocell, replacing virgin cotton or wool.
The quality of the yarn produced in this new collaboration meets 'Superior Grade' according to Chinese National Standards of GB/T 13758-2008. Renewcell states that this is the first known industrial scale production of virgin quality viscose filament yarn made from 100 percent recycled textiles. The new commercial partnership with Yibin was facilitated by Renewcell's exclusive trading partner Ekman Group.
Harald Cavalli-Björkman, Chief Growth Officer at Renewcell told Just Style exclusively:
"It is important for us to prove that textile-to-textile recycling is ready for massive scaling to replace the high impact virgin materials in use today. This most recent development shows that not only is it possible to make a 100% Circulose content cellulose fibre, it is also possible to do it in industrial scale machines and get a viscose filament product that surpasses superior grade quality made from virgin wood.
The commercial Circulose products already on the market with brands like H&M, Levi's and Bestseller use an up to 50% Circulose content viscose staple fibre. Staple fibres are equivalent to cotton fibre in length, and the most common length of fibre in use in fashion. It's good place to start with a novel material, and as far as we know we are still the only ones able to supply a 50% recycled content viscose staple fibre commercially.
With our latest development with Yibin, we have taken another step in proving the broad applicability of Circulose by making a 100% Circulose content viscose filament fibre. Filament is a continuous fibre of arbitrary length, like silk, that is commonly used in luxury products or in instances where fibre strength is important. Filament yarn is generally considered to be a more premium type of fibre."
Previous partnerships
This new deal comes hot on the heels of several major developments for the sustainable fibre manufacturer. In October 2021 a deal between Renewcell and German viscose producer Kelheim Fibres resulted in a Letter of Intent for a long-term commercial collaboration to help develop a circular economy for textiles in Europe.
Renewcell also had its environmental permit application for its planned textile recycling plant at Ortviken, in Sundsvall approved in July 2021. The facility in Ortviken is planned to recycle textile waste, including denim, to manufacture 60,000 metric tonnes of Circulose dissolving pulp per year. The aim is to save hundreds of millions of garments from landfills and incineration each year with operations scheduled to begin in the first half of 2022.