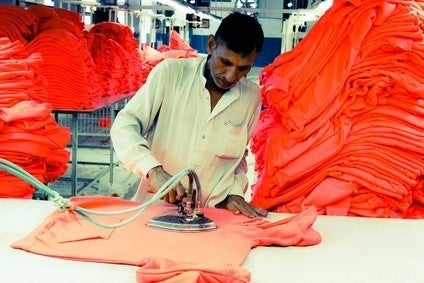 Pakistan's government is failing to enforce laws that could protect millions of garment workers from serious labour rights abuses, claims a new report that documents a range of violations in the country's clothing factories.
The 73-page report entitled 'No Room to Bargain': Unfair and Abusive Labor Practices in Pakistan,' has been produced by Human Rights Watch and highlights garment factories' failure to pay minimum wages and pensions, suppression of independent labour unions, forced overtime, insufficient breaks, and disregarded regulations requiring paid maternity and medical leave.
Human Rights Watch also identified problems in the government's labour inspection system, according to the report, which interviewed more than 140 people including 118 garment workers from 24 factories in Pakistan, as well as union leaders, government representatives, and labour rights advocates between June 2017 to December 2018.
"Labor inspectors and other authorities are frequently overstretched, or complicit, and let abuses persist," it says.
The abuses are said to be more prevalent in smaller garment factories serving the domestic market, which are often overlooked by labour inspectors.
"Pakistan authorities should revamp labour inspections and systematically hold factories accountable for abuses," HRW says. But it also urges "Domestic and international apparel brands should take more effective measures to prevent and correct labour rights abuses in the factories that produce clothing for them."
"Factory owners also need to make a commitment to reform, Human Rights Watch said. The All Pakistan Textile Mills Association (APTMA) and the Pakistan Readymade Garments Manufacturers & Exporters Association (PRGMEA) should ensure compliance with worker protection provisions, and sanction companies that abuse worker rights."
According to Reuters, Pakistan's top two textile and garment industry associations rejected the allegations and said foreign companies would have stopped sourcing from factories if they were not meeting labour standards.
"Our members cater to some of the top brands in the world and are compliant with both labour and environmental regulations of the country and those followed internationally," Hamid Tufail Khan, head of the All Pakistan Textile Mills Association," told the news agency.
On bathroom breaks, Mubashir Naseer Butt, main chief of the Pakistan Readymade Garments Manufacturers and Exporters Association, said: "If they are going to spend an hour there, naturally, that is not on."
Pakistan's garment industry employs approximately 15m workers. According to the re:source by just-style strategic planning tool, textiles and apparel contribute nearly 70% to Pakistan's total export earnings. It is the world's fourth-largest cotton producer, one of the world's largest cotton users, and the sixth largest textile exporter. The country's current Textile Policy, which runs from 2015-2019, aims to double textile and clothing exports to US$26bn by 2019. Pakistan also benefits from zero duty on exports to the EU under the GSP+ scheme.
just-style reached out to the PRGMEA and APTMA but the organisations did not return requests for comment.