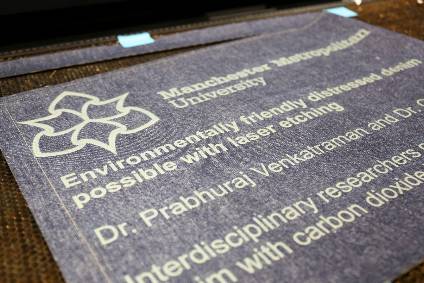 A research team in the UK has concluded that carbon dioxide laser etching can create high quality faded and patterned denim effects, altering the colours of the fibres by vaporising the dye – without compromising the strength, colour or quality of the material.
The team from Manchester Fashion Institute and the School of Healthcare Science at Manchester Metropolitan University rigorously tested the method as an alternative to traditional techniques. Currently, faded or distressed denim effects are achieved industrially using a range of physical, chemical and mechanical finishing methods that can pose severe risks to the planet and to the health of people working in and living around fashion manufacturing centres.
The process is also extremely wasteful, consuming large amounts of water, electrical power, and bleaching chemicals, the scientists say.
Along with producing fading effects on a wide range of denim products – from shirts and jackets to shorts and jeans – just as effectively as with traditional methods, the carbon dioxide laser etching technique is also capable of consistently producing high-resolution half-tone images on the denim, offering designers the opportunity of adding bespoke faded designs, patterns or writing on the garments.
"We are very pleased with the findings using a carbon dioxide laser, which can produce consistent design patterns on denim that meets the consumer's expectations, influences fashion industry practice, and does not pose health risks," says Dr Prabhuraj Venkatraman, senior lecturer in textile technology from Manchester Fashion Institute.
"This method has a huge impact on reducing the consumption of energy, time, pollution, effluents and waste currently produced using traditional techniques."
The interdisciplinary research team at Manchester Met applied the carbon dioxide laser to denim fabrics, and analysed the nature of the dye in the denim, the thermal degradation and changes to the chemical composition of fibres.
They examined the fabric strength, colourfastness, and air permeability of the denim fabrics after the laser was applied, finding that there was minimal degradation of fibres, and that the technical performance of the fabric was not affected.
They also determined colour changes at various levels of laser power and intensity, to find the optimal settings for a stylish design and strong, wearable fashion.
More than 60% of world clothing exports are manufactured in developing countries (according to the International Labour Organization), where the health of millions of people is potentially affected by unsustainable production methods, such as the chemical and mechanical finishing methods widely used to create distressed denim, the University adds.