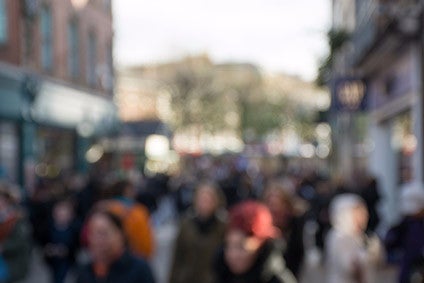 There is a fundamental disconnect between how retailers perceive investment in technology and what consumers are looking for, new data suggests, with the UK high street set to continue its struggle unless shoppers desires are met.
Almost half (46%) of British consumers believe Augmented Reality (AR) will positively impact retail, with Virtual Reality (VR) close behind (22%), according to Fujitsu's 'Tech in a Transforming Britain' report. Yet only 50% of retailers have a digital strategy to implement these technologies.
Seven in ten consumers say retail has already been dramatically transformed by technology; a change many view as positive as almost half (45%) feel technology can indeed improve the convenience and ease at which they access products and services. Yet, despite consumer demand, almost three-quarters of retail leaders say they have no plans to implement VR (73%) in the next twelve months, a statistic significantly higher than any other sector.
Around 72% also said they have no plans to implement one of the most talked about technologies at the moment, Artificial Intelligence (AI).
"Consumers have a clear appetite for technology and innovation and are ready and wanting more," says Rupal Karia, MD of Fujitsu UK & Ireland's commercial sector. "When it comes to retail, consumers already say that they would be happy to be served by a robot in a supermarket or to have an automated machine to deliver their goods. This presents an exciting opportunity for retailers, who may have thought such futuristic technologies would have scared customers away, when actually it will entice consumers towards them more."
Despite consumer positivity, the report shows retail leaders appear disillusioned with technology's role in their sector and are the least positive about the changes technology is driving in their business today. A quarter (25%) are disappointed by the return on investment technology has bought them and say it has made it harder to connect to customers in person.
"There's a clear disconnect between how retailers view themselves in this wave of technological change we undergoing right now," Karia adds. "Instead of focusing on how technology can improve their offering and further loyalty amongst their customers, many are focused on the increased competitions and the disruption to their sector."
Retailers who have embraced technology, however, are positive about the changes. Increased productivity (35%), improved operational efficiency (37%) and business growth (44%) were all listed as benefits.
Karia believes that part of the reluctance by retailers to invest in technology could be down to feeling disappointed by their return on investment.
However, he adds: "UK retailers cannot bury their heads in the sand when it comes to what is going to fundamentally change their business – technology. Two of the top three jobs that both consumers and businesses believe won't exist in a decade's time are shop assistants and shelf stackers, which will once again dramatically change the retail landscape. Retailers need to ensure they are evolving with the technology that is ultimately going to change their business models, and have an agile vision and strategy in place that can adapt which the changing landscape, or they too may not exist in the next decade."