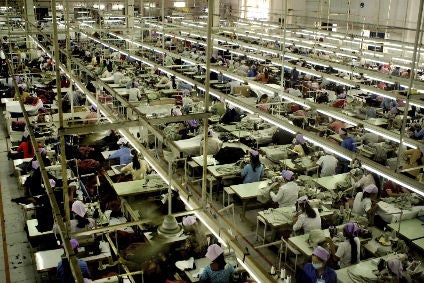 Labour rights groups are calling for brands and retailers to take action to mitigate the impact of the Covid-19 crisis on garment workers and to build towards a future in which they have access to living wages and a social safety net.
The Clean Clothes Campaign (CCC) global network has outlined a set of action points for brands, retailers, e-tailers, and governments amid the pandemic which it says is exposing the "grossly unequal" power relations that define global garment supply chains.
"The past few weeks have exposed the implications of near-absolute brand and retailer power in garment supply chains. As soon as the pandemic hit the world's major garment companies, they responded with their customary reflex, by pushing risk and costs down the supply chain. This has left many factories without the financial means to pay workers their wages, even for work already done. Millions of workers are now without income and job security, at a time of already extreme anxiety about health risks," the CCC says.
In order to act responsibly at the time of the crisis, it notes industry players, governments and other stakeholders need to:
Honour their obligations to suppliers and workers by paying for orders that are completed or in production;
Ensure and enable payment of wages or severance to all apparel, textile, footwear, and logistics workers who were employed at the onset of the crisis;
Ensure that workers who work during the pandemic can follow World Health Organization protection standards and are provided with additional labour protection including childcare facilities or allowances, health insurance, paid sick days, and hazard pay; and
Ensure that workers can refuse unsafe work and workers who are ill, or whose family members are ill, can stay at home without being penalised.
The CCC also says it is necessary to create emergency relief funds and financial support packages specifically for the garment sector, with contributions from international financial institutions, donor governments, as well as brands and retailers.
Such funds should be established as soon as possible to enable payments for sufficient income to be promptly delivered via the most efficient mechanisms available in each country. Wherever possible, this should be done by supporting the capacity of employers to maintain workers' employment and wages, it says.
In addition, the labour rights group notes while the crisis is caused by disruptions in the demand, purchasing decisions, and supply lines of the garment industry, it is exacerbated by the lack of social protection in the majority of garment-producing countries.
"Governments in garment-producing countries must immediately commit to establish and improve national social security schemes to make them consistent with ILO standards including for unemployment, employment injury, and health insurance. This should be done in cooperation with manufacturers and with contributions from brands through transparent and traceable cost-sharing mechanisms."
Ineke Zeldenrust of the Clean Clothes Campaign adds: "This crisis is the worst wake-up call imaginable to show that the total absence of social security as a concept in current supply chains is not sustainable. If supply chains start functioning again, they must start to operate with a radically changed pricing model that allows for the payment of living wages, social benefits, and worker safety."
India's Textile Minister and the country's apparel export body last week issued an appeal to global apparel buyers to "do commerce with compassion" and not cancel orders, while representatives from six major garment sourcing nations have urged brands and retailers to consider the potential impacts on workers and small business enterprises in their supply chains when making purchasing decisions.
The moves follow similar action taken by garment manufacturer representatives in Cambodia and Bangladesh.
The full set of the CCC's action points can be found here.