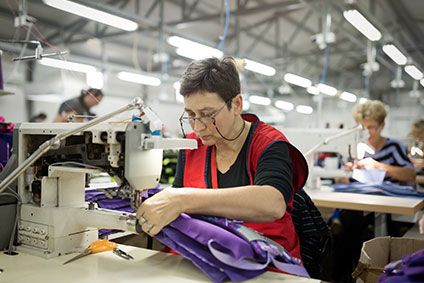 The Clean Clothes Campaign (CCC) has welcomed a decision by three fashion companies to ensure a group of workers in Romania were paid full back wages following a campaign that went viral.
During the first months of the pandemic, garment workers at the Tanex facility in Romania, received EUR140 (US$165) – just over half of their regular monthly wage, according to CCC. A campaign that followed led to international pressure and resulted in Inditex, Holy Fashion and a UK high street brand take "responsibility to settle the violations between the management and the workers".
"Like thousands of workers worldwide, the workers of the Tanex factory saw their wages cut without justification during the pandemic," says CCC. "Normally, Romanian garment workers receive the legal minimum wage of EUR278 – this includes overtime. This legal minimum wage amounts to 24% of a base living wage for Romania and 76% of the poverty threshold for Romania (as of 2018). That means that during the Covid-19 pandemic these workers only received about 10% to 15% of a living wage."
According to the human rights group, other labour and human rights violations that occurred at Tanex during the pandemic included intimidating and harassment of workers, non-payment of mandatory social insurance contributions and not paying overtime.
"Only when the group of Romanian workers joined forces with the global CCC network and wrote to Tanex's main buyers, their plight was properly picked up. Under pressure from the Clean Clothes Campaign and the workers, the brands reached out to the factory. Union access was guaranteed, which had previously been denied. Finally, in September the workers who were still employed at the factory in August received their full salaries, and after further pressure, those who were fired or left the factory in the months before were also paid the money they were owed."
Romania is the biggest garment producing country in Europe. An estimated 400,000 workers are employed in about 9,000 factories producing for brands such as H&M, Zara, Bershka, and XXX.
A survey published earlier this year from PwC's HR benchmarking project Saratoga, found that Romania faces an "acute shortage of workforce," needing about one million extra workers to sustain a 3.5% economic growth by 2023.
CCC has been stressing that for the past ten years, Romania's clothing and textile factories have constantly been searching for workers, as low wages, poor working conditions and better pay elsewhere have impeded recruitment.
Neither Tanex, Inditex, or Holy Fashion responded to just-style's request for comment at the time of going to press.