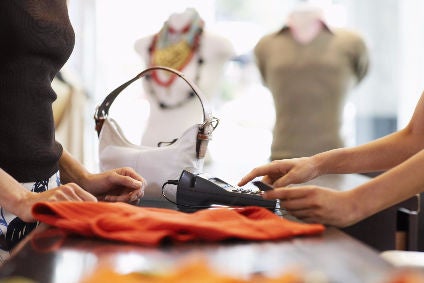 US retail sales grew for the fifth consecutive month in October, albeit at a lower pace as consumer demand for apparel waned.
Clothing retailers reported a 4.2% decrease in sales during the month, with the segment reporting the steepest month-on-month decline alongside sporting goods stores. According to data released by the US Census Bureau, sales at clothing stores were down by 12.6% year-over-year.
Overall retail sales during October edged up 0.3% seasonally adjusted from September and up 5.7% year-over-year. That compares to the revised 1.6% month-on-month increase and a 5.4% year-over-year increase in September. Sales have been up both month-on-month and year-over-year each month since June following record monthly drops this spring.
Ken Perkins, president of research firm Retail Metrics, notes consumers and retailers faced significant headwinds during October, including 6.9% unemployment, a hotly contested presidential election, and most importantly, rising Covid-19 cases and related deaths that continued to divert sales into digital channels. Lack of progress on the stimulus front also remained a concern.
National Retail Federation (NRF) chief economist Jack Kleinhenz says October retail sales remained on track despite the pandemic continuing to affect households and businesses.
"The steady expansion of retail sales is good news against the background of these unusual economic circumstances and climbing virus cases in recent weeks. Early holiday shopping appears to have supported October's increase in sales. The rise in Covid-19 cases continues to be a factor that weighs on consumer perceptions, sentiment, and spending and there could be retrenchment if we cannot thwart this latest wave. Nonetheless, retailers are well prepared to safely fulfill holiday shopping lists, and the October results suggest so far, so good."
NRF's calculation of retail sales – which excludes automobile dealers, gasoline stations and restaurants in order to focus on core retail – showed October was up 0.2% seasonally adjusted from September and up 10.6% unadjusted year-over-year. That compared with increases of 0.9% month-over-month and 12.9% year-over-year in September.
NRF's numbers were up 10% unadjusted year-over-year on a three-month moving average.
October gains were led by online sales, which were up 3.1% and 26.3% month-over-month and year-over-year respectively, thanks largely to the shift of Amazon Prime Day and related online promotions to October from July. Seven out of nine retail categories saw year-over-year increases.
Clothing and clothing accessory stores were down 4.2% month-over-month seasonally adjusted and down 11.3% unadjusted year-over-year.
Sporting goods stores were also down 4.2% on last month seasonally adjusted but up 14.1% unadjusted year-over-year.
Meaningful recovery a long way off
Neil Saunders, managing director of GlobalData Retail, notes overall, retail sales growth continues to be robust and shows that there is a good level of activity in the consumer economy.
"However, year-over-year growth rates have moderated somewhat over the prior quarter," he says. "This suggests that the curtailment of enhanced benefits and stimulus is beginning to take its toll and that the economy is not firing on all cylinders as it was earlier in the pandemic. This is especially so among lower-income cohorts, which have seen the sharpest decline in spending over the past couple of months.
"This is noticeable in the food versus non-food trends. The October growth rates among food retailers are little changed from September, which makes sense as food is one of the last areas consumers cut back on. However, for non-food retailers where spend is more discretionary, year-over-year growth dipped by almost 3 percentage points compared to September.
"The pace of decline accelerated in apparel where sales were down by over 11% compared to the prior year. This is a slightly disappointing outcome given that October is the period when consumers start to buy heavier items of apparel in preparation for the cooler months ahead. In our view it suggests that the clothing sector is still a very long way off any meaningful recovery."
Overall, Saunders says the message moving into the holiday season is clear: "Consumers are still spending and there is still an influx of money from other sectors of the economy which is helping retailers. The year will end on a solid note, but unless there is another injection of stimulus it will fall well short of being a boom. And if things keep slowing down, the prospects for early 2021 do not look promising."