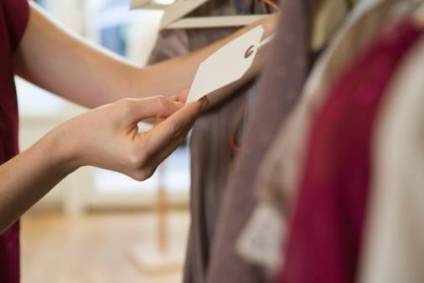 US retail sales saw their biggest monthly drop on record during March – with clothing stores seeing the largest decline as consumers prioritised spending on essential goods such as groceries and health products during the Covid-19 pandemic.
Sales at clothing stores in March more than halved from February, even though the month started out with many shops still open.
Overall retail sales during March were down 8.7% seasonally adjusted from February, and down 6.2% unadjusted year-over-year, according to the US Census Bureau. The monthly drop is the largest ever recorded, exceeding a 4.3% decline in November 2008 during the Great Recession.
March was a tale of two halves as food and beverage stores were up 28% from the same month a year ago, while clothing and clothing accessories stores were down 50.7% from last year. On a monthly basis, sales at food and beverage stores were up 25.6% from February, while those at clothing and clothing accessories stores fell by 50.5%.
The Bureau says it believes the reliability of its data had not changed "substantially" despite the fact that many retailers whose businesses were closed were not in the office to reply to its monthly survey of sales results. It acknowledges, however, that retailers' "ability to provide accurate, timely information to Census may be limited."
The fall comes as the coronavirus pandemic has forced restaurants, bars, and many stores to temporarily close across the nation with stay-at-home orders also impacting gasoline sales.
Ken Perkins, president of research firm Retail Metrics, says: "Entire malls shut down across the country in the second half of March with discretionary retail segments taking a beating. The pain is excruciating for retail, particularly for weaker players."
However, sales soared at grocery stores and were up at other retailers deemed "essential," offsetting some of the decline.
Perkins notes while essential retail categories such as food and health care generated "incredible" sales growth as consumers stocked up, "virtually everything else got crushed," with apparel sales in free-fall as stores closed and clothing purchases took a back seat to paying the rent or mortgage and buying food.
The National Retail Federation's (NRF) calculation of retail sales – which excludes automobile dealers, gasoline stations and restaurants in order to focus on core retail – showed March was up 1.7% seasonally adjusted from February and up 4.5% unadjusted year-over-year. The difference between the Census Bureau and NRF numbers is because the categories NRF excludes saw some of the biggest hits.
Clothing stores saw the biggest decline among categories counted by both NRF and the Census Bureau, with sales down 50.5% month-over-month seasonally adjusted and 52% unadjusted year-over-year, according to the NRF.
The body's figures also show sales at sporting goods stores were down 23.3% month-over-month seasonally adjusted and down 24.4% unadjusted year-over-year.
Meanwhile, with more people turning to e-commerce, online and other non-store sales were up 3.1% month-over-month seasonally adjusted and up 12.1% unadjusted year-over-year.
"Covid-19 has hit the retail industry unevenly," says NRF chief economist Jack Kleinhenz. "This is a market of haves and have-nots. The haves are the stores that remain open with lines out the doors to buy daily necessities, while the have-nots are the stores that have closed and are taking the brunt of the impact of the pandemic. These numbers should come as no surprise given the mandated shutdown of our economy to slow the spread of the virus.
"March was a month that started out with many stores still open but far more are closed now. Don't be surprised if the data going forward shows a worsening situation. Even if the economy begins to reopen in May, consumer behaviour may take a long time to adjust. The road to recovery could be long and slow."
Grim reading
Neil Saunders, managing director of GlobalData Retail, notes the retail sales numbers make for grim reading.
"The most worrying part is that not all of March was affected by the coronavirus. The first state stay at home order only came into place on 19 March and for the early part of the month, most consumers were behaving normally. On top of that, the latter part of March saw a boost in spending on groceries, health products and home improvement – all things that helped support retail sales."
April will have no such benefits, Saunders adds, noting the whole month looks like it will be a write-off for retail, with stores remaining closed for the duration.
"Panic buying has now largely subsided and will not lift sales to the same degree. However, the biggest downsides are the dramatic rise in unemployment and the rapid decline in consumer confidence. Taken together, these dynamics will reduce the money people have to spend and how willing they are to spend it.
"As ugly as March was, it appears to be a prelude to a hideous April."
With sales at clothing chains falling by 52% on a year-over-year basis, Saunders describes the apparel sector as "extremely distressed."
"This unheard-of level of decline underlines how the consumer has quickly de-prioritised nonessential spending. It is also a factor of the relatively quick drop-off in mall traffic, where most apparel stores are located, as people felt unsafe visiting enclosed environments."
He adds the overall near-term outlook for retail is bleak. "There has been some transfer of spend to online, but it is nowhere near enough to offset the declines in stores. The sector has already taken an enormous hit and needs to be braced for more of the same over the coming months."