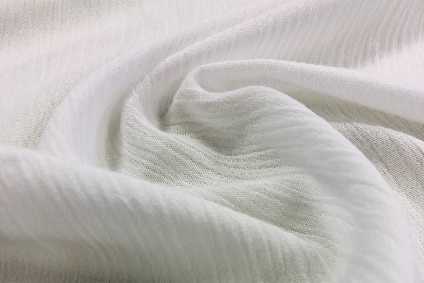 Portuguese textile firm Sanmartin has developed a sustainable range of eco-friendly fabrics, recycled polyesters and organic cottons.
The Sanmartin Sustainable Collection includes a range of Ecovero fabrics, polyesters and cottons. Included are luxury chiffons and satins in Ecovero, the branded viscose from Lenzing, that is sourced from sustainable wood pulp and has lower water impact and lower CO2 emissions.
Sanmartin chose Ecovero fibres as they have been certified with the EU Ecolable as meeting high environmental standards throughout their life cycle, from raw material extraction to production, distribution and disposal.
Also available in the new collection are a range of recycled polyester satins, chiffons and georgettes. The synthetic yarn is made mainly from plastic waste taken from the sea.
In addition to the Sustainable Collection, Sanmartin has developed new natural fibre fine fabrics, such as blends of viscose with wool and viscose.
"We actively promote improving the impact our business has on the environment and the proportion of materials and components, which are obtained from sustainable sources," says Nick Moore, managing director at Pongees, which represents Sanmartin in the UK.
"As a silk supplier our fabric is woven from fibres that come from a natural source; with the Sanmartin fabrics we can increase our offer of eco-friendly fabrics."
Sanmartin's organic cotton collection will be available from mid-November.