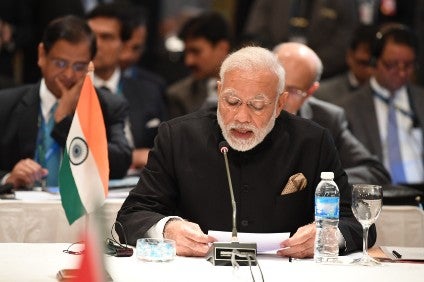 As India records the highest number of daily coronavirus cases globally, researchers are warning a full recovery of the apparel sector to pre-Covid levels might only be seen by 2023.
India today (22 April) reported 314,835 new coronavirus cases in the last 24 hours – the biggest one-day total seen anywhere in the world since the pandemic began.
Prime Minister Narendra Modi said the country was facing a coronavirus "storm" which was placing immense pressure on its health system. However, no national lockdown has been announced, with regions implementing their own rules.
The apparel sector was already under pressure with exporters facing concerns over working capital and liquidity.
Owing to pandemic-driven demand and operational disruptions, India's fabric production fell by an estimated 60-70% year-on-year in the first quarter of the fiscal year, according to credit ratings agency ICRA, which is part of Moody's Investors Services. Exports of apparel fell by 65%.
The sector may not see a full recovery to pre-Covid levels until 2023, the agency has warned.
In an update for the Indian apparel and fabric sector, ICRA says: "The pace of recovery for domestic apparel players is likely to slow down in the coming months due to localised lockdowns amid a fresh surge in infections.
"India's apparel exports are expected to revert to a growth trajectory in FY2022, partly benefitting from the low base effect. Nevertheless, continued lockdown restrictions in some of the key markets is expected to keep exports below pre-Covid levels in FY2022, with full recovery likely by FY2023.
"Supported by a low base effect and comfortable demand from the downstream segments, fabric production is likely to revert to growth in FY2022. However, similar to apparels, full recovery to pre-Covid levels is likely by FY2023."