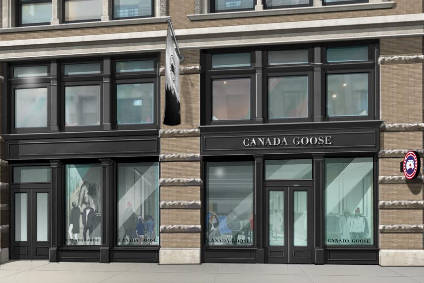 A fourth-quarter sales and profit rise at Canada Goose has not been enough to stop shares from tumbling after the Canadian outdoor apparel brand missed analyst expectations and sounded a cautious outlook on future sales performance.
While sales grew 25% to CAD156.2m for the fourth quarter ending 31 March, analysts had predicted sales growth to CAD156.8m. Operating income grew to CAD5.7m from CAD2.5m a year earlier, and net income rose to CAD9m from CAD8.1m year-on-year.
Despite full-year revenue performance being 40.5% higher at CAD830.5m, the company says it expects fiscal 2020 revenue growth of only 20% – and that it will remain at 20% for the next three years.
It also warned on "materially larger losses" in adjusted EBIT and adjusted net income for fiscal 2020 on the back of a larger number of retail stores operating during off-peak periods and higher corporate SG&A investments to support growth, including local market activation ahead of planned retail openings, new product and Greater China operations.
Operating income for fiscal 2019 increased to CAD196.7m from CAD138.1m, driven by revenue growth and gross margin expansion and net income rose to CAD143.6m from CAD96.1m.
Shares in the company fell by more than 30% in early trade on Wednesday (29 March) to $45.94 per share.
Earlier this month Canada Goose officially opened its second production facility in Quebec as part of its commitment to keeping production of its core down-filled jackets in Canada.