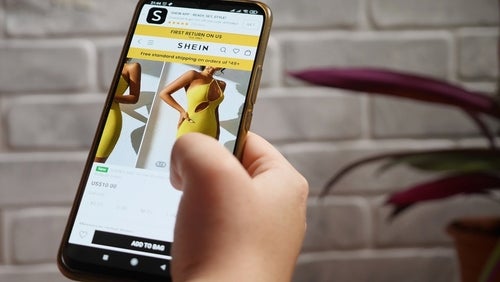 Shein and Queen of Raw are partnering to support Shein's ambition of repurposing high-quality deadstock materials.
Shein is utilising Queen of Raw's proprietary software, Materia MX, to source existing materials from brands and retailers looking to responsibly clear out their excess fabric inventory. This partnership is part of Shein's larger commitment to the World Circular Textile Day initiative announced in 2022, which calls for a fully circular textile industry by 2050.
By repurposing other brands' excess inventory, Shein will avoid consuming new textile resources and create a blueprint for alternative business models that leverage circularity to mitigate textile waste and reduce the use of new raw materials.
According to Queen of Raw's impact measuring algorithms, diverting 1 million yards of fabrics from excess inventory would set Shein's goals in sight with repurposing deadstock materials, helping conserve water and preventing the creation of carbon dioxide equivalents that would have been generated through conventional production methods.
Stephanie Benedetto, CEO of Queen of Raw, said: "Our technology empowers Shein to incorporate local deadstock textiles from other brands into its on-demand business model to optimise future inventory purchases. As a result, climate and water impacts are reduced while enhancing transparency."
The retailer's adoption of Queen of Raw's Materia MX platform automates its supply chain workflow, enabling the verification of unused materials that meet both Shein's sourcing requirements and Materia MX's deadstock standard. These materials are then made available to Shein designers to incorporate into products sold on Shein's platform. The Materia MX platform also allows the retail company to track and report the data in-line with science-based standards.
Caitrin Watson, director of sustainability at Shein, added: "Partnering with Queen of Raw supports our advancement to a more circular system, starting with the design of our products. Since Shein's business model is to create products on demand, we don't accumulate excess fabric liability, which is one of the biggest financial and sustainability challenges for the fashion industry. We are poised to purchase high-quality surplus materials, helping us to reduce the environmental impact of our products and become a circular solution for other businesses."
This partnership contributes to Shein's newly-established sustainability roadmap, "EvoluShein." The framework, which comprises three key pillars – equitable empowerment, collective resilience, and waste-less innovation – builds on and further guides the company on its sustainability journey by addressing the most critical social and environmental challenges facing the fashion industry today.
EvoluShein aims to establish higher goals and responsibility for Shein, driving continuous efforts to develop its business for the future while establishing a starting point for measuring progress.
US Senators recently penned a letter to Nike, Adidas, Shein and Temu asking them to address concerns that their global fashion supply chains engage forced labour of Uyghur minorities in the Xinjiang Uyghur Autonomous Region (XUAR) of China.