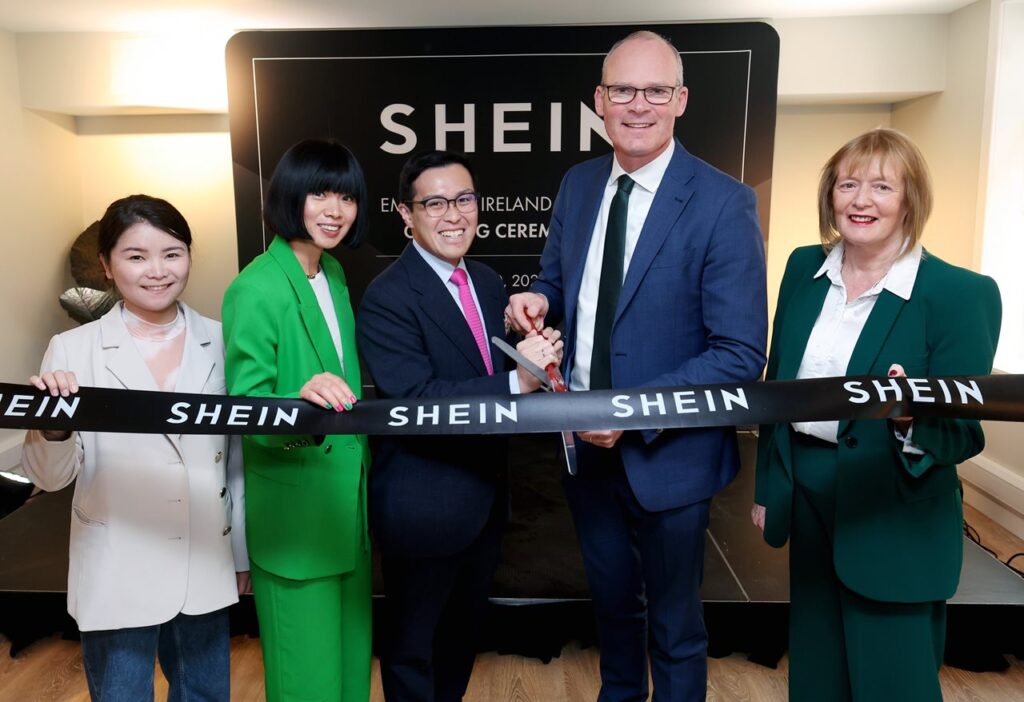 The Dublin office will host Shein's strategic IT hub for EMEA and will function as the heart of Shein's operations in the region, further building on its commitment to empowering local economies and communities.
During the opening ceremony, Ireland's Minister for Enterprise, Trade and Employment, Simon Coveney, met Shein's global head of government relations Leonard Lin, including other company executives to discuss the Chinese e-tailer's growth strategy in Ireland.
Shein aims to fill 30 key roles in the Ireland office by the end of 2023, with a view to increasing this number as the company grows. The company will also be expanding its graduate programme in Ireland.
Commenting on the launch of its EMEA headquarters, Lin added: "I am delighted to launch our EMEA headquarters in Ireland. Ireland's pro-business environment and great access to talent make it an excellent hub for companies, including Shein, to manage and grow our business in the region. Our Dublin office opening marks an important milestone in Shein's growth in EMEA – which is one of our most important markets. We look forward to contributing to the growth of the local economies and to supporting local communities."
Nearshoring and growth plans
Shein's nearshoring strategy saw three new distribution centres opening across EMEA in 2022, including a 40,000m2 distribution hub in Wroclaw, Poland, as well as centres in Italy and the United Arab Emirates, growing its nearshoring bases in EMEA to eight.
By nearshoring its distribution hubs, Shein aims to improve the speed of fulfilment in the region.
In 2023 Shein is also planning to host around 30 pop-up stores around the EMEA region, with the next Ireland pop-up happening from 12 to 17 May at Opera Lane, in Cork.
The company explained: "Last year, Shein's pop-up at Jervis Shopping Centre, Dublin, attracted over 4,000 visitors per day. These pop-ups form an integral part of the SHEIN business model, allowing consumers to experience products first-hand as well as allowing the brand to engage with consumers. Both initiatives, nearshoring and pop-up store, are prime examples of Shein's dedication to offering the best customer service and experience for consumers in EMEA."
Apart from this, as part of Shein's in-house fashion incubator programme Shein X, the e-tailer has collaborated with 390 designers and artists across EMEA since its launch in January 2021.
Shein X is working to support these artists and designers in their aspirations of launching a fashion collection by providing them with the knowledge, experience, network and global sales channel so that they can focus on creating.
The company said it aims to continue to grow this number in the coming years.
The e-tailer said in April that it will invest $150m to enhance the competitiveness of Brazilian textile manufacturers as part of its expansion plans in Latin America.