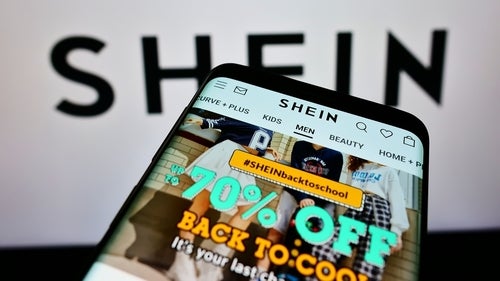 According to Reuters citing confirmation from a Shein spokesperson, the first store will open on 13 November on Cat Street in the Harajuku fashion district, as the company looks to bolster its online brand with a physical presence.
Shoppers will be able to browse clothing at the Shein store front and scan QR codes to allow them to make online purchases.
Shein did not respond to requests for comment when approached by Just Style.
Last month Shein announced the launch of Shein Exchange, a resale platform, that would provide a one-stop destination for customers to become active participants in circularity and promote the benefits of purchasing pre-owned clothing over new items.
The new feature is currently available to all US customers with plans to expand to other global markets next year. Shein Exchange was created in partnership with Treet, a resale technology platform creating circular fashion experiences for a number of fashion retailers.
The pilot version of Shein Exchange in the US is part of Shein's larger commitment to address the ongoing issues of textile waste and build a future of fashion that is more circular. By driving its community to buy or resell on Shein Exchange, the brand aims to influence and promote mindful consumption among its customers, ultimately extending the life of as many items as possible.
Earlier in the month, the fast-fashion brand committed to reducing supply chain emissions by embedding Science-Based Targets as part of its sustainability management. Adam Whinston, global head of ESG at Shein, said in a statement that the brand's goal is to make resale "just as easy and convenient as buying something brand new" along with setting a cultural movement around circularity in motion with Shein's own community.