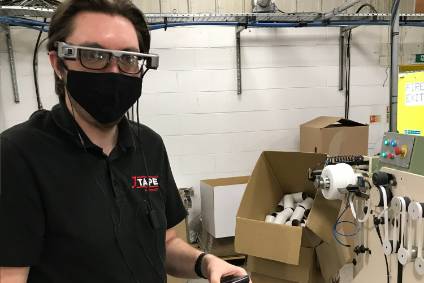 Technology adoption programme Made Smarter is deploying 'smart glasses' to SME textile manufacturers to virtually fast track their digital adoption strategies and navigate Covid-19 restrictions.
The wearable device enables technology specialists from Made Smarter to perform virtual end-to-end production line walks of factories with a business as part of the digital transformation workshop (DTW) process.
The virtual visit allows advisers to dial into a conference call and watch each manufacturing operation being performed in order. This enables discussions around inputs, outputs, process control, and quality performance in order to provide a clear picture of each businesses' bespoke operation, Made Smarter says.
The introduction of smart glasses has enabled Made Smarter to overcome access restrictions and limitations caused by the pandemic to get the vital insights needed to support the manufacturer's digital transformation. It also gives manufacturers a valuable opportunity to test how this emerging technology could be used in their business.
Will Kinghorn, industrial digital technology advisor for Made Smarter, says: "In the wake of the pandemic we redesigned our digital transformation workshops to continue delivery when in-person visits were not possible.
"This approach has helped 141 manufacturers engage in a streamlined process designed to accelerate manufacturing growth by identifying digital tools and technologies that can maximise operational processes.
"In that same spirit of innovation, as we tread a cautious roadmap out of lockdown, and to minimise the spread of the virus, we have developed virtual line walks.
"When it comes to how things are made there is no substitute for seeing it for yourself, but the use of smart glasses is a fantastic alternative. They are specifically designed to keep both your hands free, letting the wearer demonstrate how things work, what products look like or easily show relevant paperwork.
"We have designed these workshops to require minimal time investment for manufacturers to turn the actions into results, while still allowing participants to focus on the day-to-day operations of the business."
Made Smarter has different types of smart glasses to suit different requirements including the Epson Moverio; Realwear HMT-1; Vuzix Blade; and Magic Leap.
The glasses come with a 4G dongle to ensure connectivity if there are WiFi or network coverage challenges, and the glasses also work offline which means manufacturers can record a video of the production line walk which can be reviewed later.