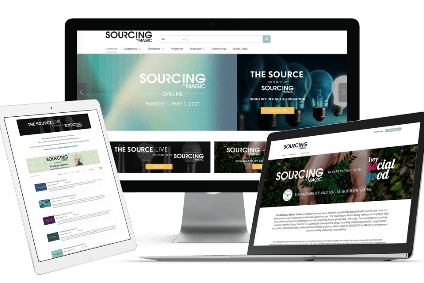 Sourcing at Magic is holding its second online edition with sessions running through March to May with sustainability and education topics of focus this year.
Hundreds of manufacturers, suppliers and service providers from over 20 countries, from India and China to Vietnam and Brazil, will be present on the platform. While top manufacturers, suppliers and service providers will also be taking part, alongside thousands of registered brands.
"Sustainability has become increasingly important within our industry," say organisers. "To better educate our communities as well as shine a light on those in our community making efforts towards a more sustainable future, our second edition brings of-the-moment topics related to sustainability and ethical practices to the forefront of conversation this season."
A Sustainability Summit will be held on 31 March, titled: 'The Sustainable Revolution: Traceability and Transparency of the Supply Chain'. The summit will discuss traceability in the supply chain and how transparency will lead to complete sustainable supply chains that will serve customers and consumers in unique ways, adding value beyond the products.
With a date yet to be announced, apparel giant VF Corp will present a session on scaling sustainable solutions. The company will discuss the challenges and opportunities VF and its brands face as they work together to find, create, and drive sustainable solutions at scale. Speakers will include Jeannie Renné-Malone, VP of global sustainability, Carol Shu, senior manager of sustainability at The North Face, and Alicia Chin, senior manager of sustainability at Smartwool.
In April, Frances Harder of Fashion for Profit, and Syama Meagher of Scaling Retail, will discuss 'Important Shifts in Consumer Behavior for 2021'. In a pre-recorded conversation, the speakers will dive into the biggest changes and market outlooks for fashion businesses today and uncover what makes a consumer-friendly brand in today's market and how customers are shopping.
You can register for the event here.