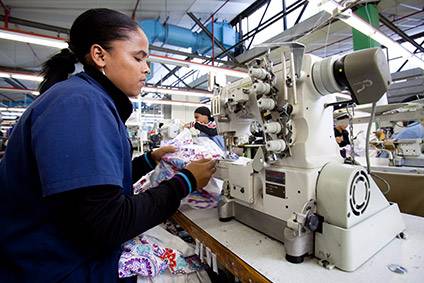 The South African Trade and Industry Department is to develop a master plan to grow the clothing and textile and footwear and leather retail value chain.
Speaking at the launch of the Toyota Wessels Institute for Manufacturing Studies in Durban, Trade and Industry Minister, Rob Davies, confirmed the department was working with Justin Barnes – who was the facilitator for the new automotive master plan to 2035 – on a "similar plan" for the clothing and textiles sector.
Davies said the country needs to "significantly and seriously upscale our efforts much more broadly across manufacturing."
Davies elaborated further on the sidelines of the event, telling local reporters while a similar plan to the automotive one is envisaged, the challenges are greater due to the "huge amount of illicit trading happening and new entrants and competitors".
"Some of that has actually got worse in recent years, as we have had instability at customs administration, which has meant we have had more under-invoicing and more illegal entry (of goods) and stuff like that," Davies told IOL South Africa.
He added they had already seen the impact of incentives to the clothing and textile retail value chain a few years ago when the incentive was changed to be based on competitiveness from being earned on the basis of exports, with the duty credits sold to importers of new clothes.
The master plan is expected to create 60,000 additional jobs in the clothing and textile retail value chain.
According to data from Statistics South Africa, in 2018, the total value of the country's clothing, textiles, footwear and leather market exceeded ZAR180bn (US$13.13bn).