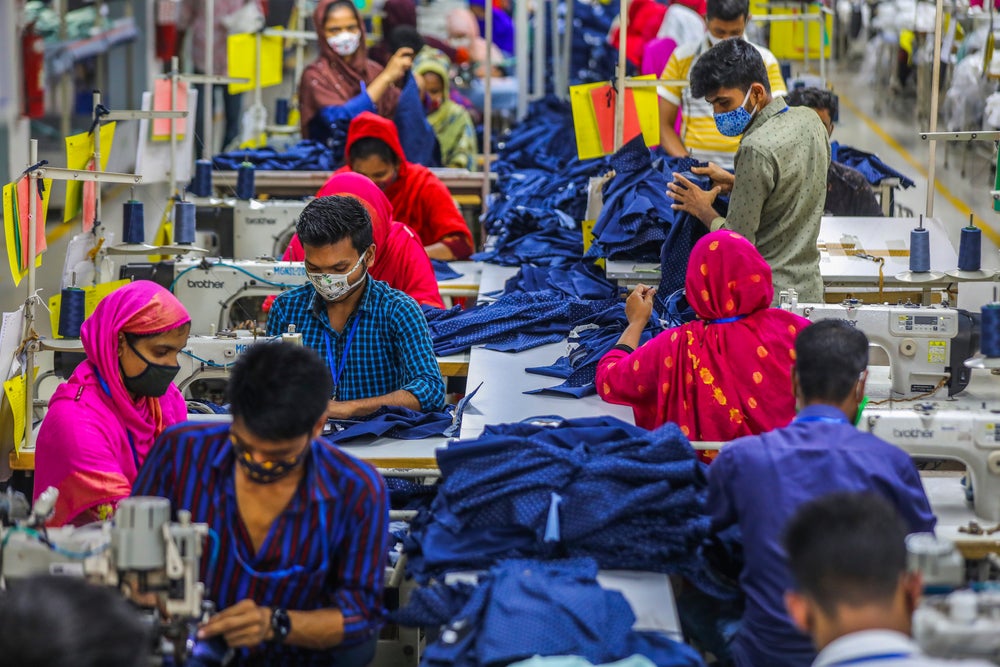 The workers' unions, which include the Asia Floor Wage Alliance (AFWA) and Global Labor Justice-International Labor Rights Forum (GLT-ILRF), have come together for the 'Fight the Heist' campaign, which claims fashion brands have benefitted from 'wage theft'.
The AFWA states: "Asian unions and allies have launched this campaign to stop NIKE, Levi's and VF Corp from funneling stolen pandemic wages toward buybacks that enriched owners at Wall Street."
It adds the campaign wants big fashion companies and brands to:
Sit down with garment workers and their unions for a systematic investigation of Covid wage claims, including specific impacts on women workers.
Stop billionaire payouts from dividends and stock buybacks until all garment workers are repaid their lost wages.
Transform their global supply chains including providing living wages for all workers.
The campaign has launched following allegations made in the report "Big Fashion Investors Cash In on Wage Theft" published by both the AFWA and GLT-ILRF.
The report refers to articles published by Wall Street Journal and alleges US-based fashion giants such as Nike have not compensated garment workers who lost their "paycheck en masse" during the Covid period, and suggests they were laid of in "hundreds of thousands" from these factories.
The AFWA and GLT-ILRF said: "This was wage theft at an unprecedented scale, from illegal layoffs and terminations to arbitrary pay cuts, unpaid wages for hours worked, and gender discrimination.
"Big fashion companies, including Nike, triggered this crisis when they cancelled or drastically reduced orders en masse in response to economic uncertainty during the initial months of the Covid pandemic."
Anannya Bhattacharjee, international coordinator of AFWA told Just Style that after their organisation surveyed 2,000+ garment workers in 189 factories across six countries, it was found garment workers lost about three months' pay in 2020.
She explained: "Workers, already barely surviving on pre-pandemic poverty level wages, were plunged into severe debt, hunger and homelessness. We revisited some of these factories with GLJ-ILRF in 2022 and found that nine in ten factories have not been compensated for the Covid wage claims. This included the one in five factories which were not paying minimum wages or benefits. The current recessionary trend in the global economy is a harsh reminder of the pandemic as workers in some factories are reporting wages at pandemic rates."

Bhattacharjee explained the 'Fight the Heist' campaign demands that brands sit down with garment workers and their unions for a systematic investigation of Covid wage claims, and develop systems to ensure this tragedy is not repeated.
She added: "Going forward, we need to build sustainable supply chains that protect workers and provide a dignified living wage. We have filed an OECD complaint against Nike, because it has been completely unresponsive. We prefer the method of co-investigation and dialogue; however, we will be forced to file complaints against brands which refuse to negotiate and resolve these human rights violations in their supply chain."
Nike had not responded to Just Style's request for a comment at the time of going to press and Just Style was waiting to confirm a time to speak to Levi at the time of going to press.
Meanwhile, VF Corp shared the full statement it gave to the AFWA back in November 2022, which explained: "At VF, we recognise the negative impact the global Covid pandemic had and is continuing to have on the millions of people employed in global apparel and footwear supply chains. VF remains committed to supporting our vendors and factory workers during this extraordinary time…
"We remain committed to treating all workers with dignity and respect, upholding human rights, and supporting the health and safety of garment workers across our global supply chain. We will continue to embed the three pillars of the UN Guiding Principles, "Protect, Respect, Remedy", into our human rights efforts through the ongoing crisis and in a post-Covid world. As topics emerge that may negatively impact workers, VF will continue to act with urgency and in a manner that maintains worker-centric remedial action.