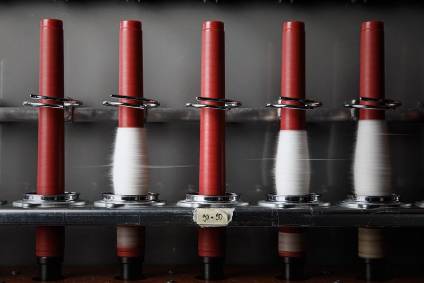 Finnish sustainable fibre producer Spinnova has entered into a 50:50 joint venture with wood pulp producer Suzano in a move that will see it begin construction of a EUR22m (US$27m) factory that allows it to scale production of its sustainable bio-based fibre.
The announcement was made during a joint web presentation between the two firms this afternoon (25 February).
The factory will be the first commercial-scale Spinnova production facility in Finland. The total investment, including all needed infrastructure such as real estate, is estimated to be some EUR50m. Spinnova's sustainable fibre, created out of wood and waste without the use of harmful chemicals, will be available for global textile brands in 2022.
The facility will be located in Jyväskylä, home of Spinnova's R&D hub and pilot facility. Production will be managed and operated by a new joint venture company owned by Spinnova and partner and investor, Suzano.
"Every leading textile brand is looking for ways to minimise their emissions and ecological footprint, and build a circular material foundation for their products," says Spinnova's CEO and co-founder Janne Poranen. "We feel humbled and proud that soon we will be able to provide brands our new, disruptively sustainable fibre and fabrics."
Suzano, which claims to be a world leader in the production of eucalyptus pulp, will ensure the supply of sustainably produced micro-fibrillated cellulose (MFC) obtained from eucalyptus planted by Suzano in Brazil. The fibre produced will be sold under the Spinnova trademark, with the company operating as the exclusive technology provider.
"Suzano uses only planted trees in its production processes. This renewable raw material is being combined with Spinnova's technology for producing fibres that are more sustainable than the options currently available in the textile industry, which is aligned with the demands of contemporary society," says Fernando Bertolucci, chief technology and innovation officer of Suzano.
With a process that uses no harmful chemicals and 99% less water than the cotton value chain, Spinnova claims its fibre can be considered "the most sustainable textile fibre there is." Fibre produced this way creates minimal CO2 emissions, is quickly biodegradable and contains no microplastics, it notes.
The firm's technology also enables textile fibre production from textile waste or agricultural waste such as wheat or barley straw in addition to wood.
When asked what the production costs would be of the new Spinnova fibre versus conventional fibre production costs, both Spinnova and Suzano said they were working to ensure the costs remained as low as possible.
"The goal is not only to provide a sustainable material, it has to be competitively priced too," Bertolucci said during today's presentation.
Meanwhile, Swedish fashion giant H&M Group has also announced its partnership with Spinnova today.
"The H&M Group's ambition is to become fully circular, and we are continuously testing and actively looking to further integrate the use of sustainable materials through our group's brands. We see Spinnova as having great potential to address several of the sustainability challenges we face today," said Mattias Bodin, H&M Group's Circular Innovation Lab lead.
It is the second such announcement from H&M in a matter of days. Earlier this week, the group's co-owned Swedish joint venture TreeToTextile said it would invest EUR35m (US$42.6m) in constructing a demonstration plant in Sweden for scaling its new regenerated cellulosic fibre, which is produced from renewable and sustainably sourced raw materials.
Spinnova will be announcing a number of new brand collaborations and products later this year. The company expects to fill the new factory's production capacity during 2021.
"We believe that the Spinnova fibre will be the breakthrough that the textile and fashion industry has been waiting for," Poranen adds. "We have all the needed components in place: a good quality product that can replace cotton in end products, proof of concept from our production pilot, scalable technology and ample, sustainable raw material supply. To speed up the company's further growth, Spinnova is now actively exploring multiple substantial financing alternatives."