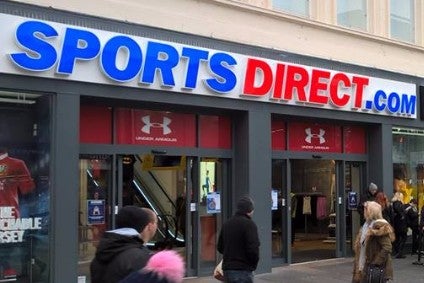 Shares in Sports Direct International were down 9.6% this morning (14 December) as profit more than halved in the UK sportswear retailer's first six months of the year, despite what chief executive Mike Ashley said was a "spectacular trading performance".
In its interim results for the 26 weeks to the 29 October, the firm said reported profit before tax fell 67.3% to GBP45.8m (US$61.6m) from GBP140.2m a year earlier. The company said the prior year period included a profit of GBP119.7m relating to the sale of JD Sports plc shares. Gross margin narrowed by 180 basis points to 38.6% from 40.4% due to the impact of increased stock provisions and the continued impact of the US dollar exchange rate.
Group revenue meanwhile, increased 4.7% to GBP1.71bn from GBP1.64bn last year. Spots Direct said the uptick was aided by favourable Euro exchange rates and the acquisition of Bob's Stores and Eastern Mountain Sports during the period. Excluding this acquisition, the Dunlop disposal and on a currency neutral basis, group revenue was up 1.2%.
UK sports retail sales fell by 1.4%, mainly due to reduced online promotional activity and store closures as part of the continued elevation of the portfolio, while international sports retail achieved sales growth of 4%, largely due to the translation of sales at an improved EUR/GBP exchange rate.
The company said it remains on course to deliver an increase in underlying earnings in line with its forecast in July.
Ashley added: "Our high street elevation strategy is currently delivering spectacular trading performance within our flagship stores.
"Whilst our reported profit before tax has been impacted by fair value adjustments and transitional factors such as the disposal of assets in FY17; our underlying profit before tax remains healthy. We will continue to invest for the long-term and our net debt has increased in line with management expectations."
He added the firm intends to open between ten and 20 new flagship stores next year and continues to expect that growth in underlying EBITDA during fiscal year 2018 will be within the forecast range of 5% to 15%.
Charlotte Pearce, retail analyst at GlobalData, notes despite Sports Direct's value and low price credentials suiting consumers whose budgets are squeezed, UK sports retail revenue continues to underperform the UK sports goods market, which is forecast to rise 5.7% in 2017.
She adds the retailer's plans to open between new flagship stores will help to improve brand image, especially as competitor JD Sports has focused on this. "However, with greater competition from retailers such as Asos launching own-brand ranges and the expansion of brands such as Nike and Adidas which are now more widely available through high street retailers such as Topshop, it will need to do more than open new flagship stores to increase destination appeal.
"Improvements in Sports Direct's website will need to be made to be in line with its "elevated" store image and serious thought must be given to the brands it stocks both online and in-store, with ones such as Lee Cooper being outdated and ripe for removal. Working with fitness bloggers and relevant celebrities to raise awareness of its new stores, holding in-store events and promotion of these on social media for example, would help to build relevance, protect loyalty and aid shopper acquisition."