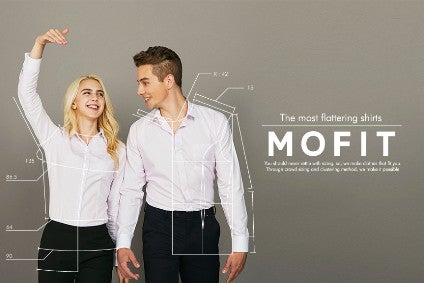 A Korean start-up aims to remove the guesswork from garment sizing and instead use crowd sizing and clustering to make clothes that fit.
The MoFit online clothing project from Reviewmerce Co Ltd launched on Indiegogo this month and collects size dimensions from backers. From there it will create subgroups of those with similar dimensions – noting that the more people that sign up, the more exact the fit becomes.
The idea is that, as groups get bigger, smaller subgroups can split off into more exact measurements. And instead of just small, medium and large, it is hoping to create even more size groups.
And as customers continue to order its shirts, the company will store information based on past styles and fit preferences in order to recommend the best items.
Crowd sizing is very similar concept to crowd funding. While crowd funding is a method of raising capital through the collective effort of friends, family, customers and individual investors, crowd sizing is collecting various sizes from backers – not to gain money, but to construct new organisations of sizes.
The company cites research that claims only 50% of ready-made clothes fit well, 25% do not fit well, and 25% do not fit at all. "People waste their time and money to find the clothes that fit their body, and a lot of them tweet complaints about this issue. At MoFit, sizing is a mathematical equation that will solve all fit problems," the company says.
"Doing away with standard sizes that force customers into broad boxes, it will create even more detailed size system," it adds.
MoFit has been developed in cooperation with professional tailors and garment factories following months of in-depth research and numerous fittings. The technology has been recognised by the Korean Ministry of Commerce Industry and Energy for its utilisation of public data.