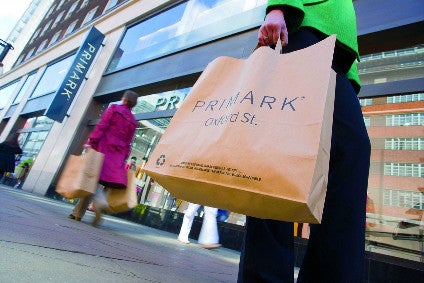 Value fashion giant Primark has again credited the continued expansion of its store portfolio both at home and abroad for a rise in first-quarter sales but cited a "marginal" decline in UK like-for-like sales during the period.
Announcing its results for the 16 weeks to 4 January, parent company Associated British Foods (ABF) said trading at Primark has been "good" in the first quarter, with sales 4.5% ahead of last year at constant currency and 3% ahead at actual exchange rates.
It added sales growth was due almost entirely to the increase in selling space. Like-for-like performance also improved, driven by a marked upturn in the Eurozone.
Primark continued to perform well in the UK, with sales up 4% on last year, driven by a strong contribution from new selling space with a marginal decline in like-for-like sales for the period. As a consequence, the retailer delivered a further increase in share of the total clothing, footwear and accessories market. Trading was particularly good over November and December, ABF said.
Sales in the Eurozone, meanwhile, were 5.1% ahead of last year at constant currency as a result of the increase in selling space and like-for-like growth, with strong progress in France and Italy. The improvement in like-for-like sales in the final quarter of the last financial year continued. At this early stage, ABF said there was a "notable improvement" in Germany.
The retailer's US business delivered like-for-like sales growth in the period.
As expected, operating profit margin in the period decreased, with the effect of purchases contracted at a stronger US dollar exchange rate than last year but partially mitigated by cost reductions in both the cost of goods and overheads.
Retail selling space increased by 0.2m sq ft since the financial year end and, at 4 January 2020, 376 stores were trading from 15.8m sq ft which compared to 15.1m sq ft a year ago.
ABF expects to add a net 0.9m sq ft of additional selling space in this financial year, with 18 new stores together with a number of relocations. However, selling space will be reduced in a further store in Germany.
Meanwhile, trading at Primark's first store in eastern Europe, in Ljubljana, Slovenia has exceeded expectations, while the retailer will enter the Polish market with a new store in Warsaw in spring 2020, followed by a store in Prague, Czech Republic.
It has also signed a lease for its first store in Slovakia, in Bratislava which will take Primark to its fifteenth country.
What the analysts say
Nigel Frith, a senior market analyst at www.asktraders.com, notes: "Not even Primark's UK arm was able to outsmart estimated weaker footfall numbers on the UK High Street this Christmas period.
"Primark's UK arm saw underlying sales fall marginally over the Christmas period. However, the fall was much less than that of rivals meaning Primark grabbed a larger share of the UK clothing market."
Frith says overseas is proving to be a real success story for Primark and given its lack of online presence, a great way to sidestep the otherwise tough conditions of the UK market.
"Overall there was a lot to like in these results," he concludes. "Primark continues to perform well compared to rivals and despite challenging conditions, amid weak consumer confidence and low retail sales in the sector."
Chloe Collins, senior retail analyst at GlobalData, adds while Primark has once again delivered impressive top-line sales growth, its performance is primarily thanks to a continued focus on store expansion.
She adds despite positive like-for-like performances in the Eurozone and the US, and good domestic trading in November and December, first-quarter like-for-likes declined, continuing the trend from FY2018/19 in which like-for-likes fell 1%.
"While physical expansion remains on the agenda, with entry into Slovakia, its like-for-likes prove that developments within its existing UK portfolio and product improvements must also be a priority," she says.
Meanwhile, as UK consumers become more passionate about sustainability and protecting the environment, Collins notes Primark is at risk of more shoppers boycotting its fast-fashion model.
"Its SS20 activewear collection with fitness influencer Alice Liveing is one of its first ranges to focus on sustainability, with 'Go Green' being one of the campaign themes and selected items made from recycled polyester. However, to truly convince shoppers of its commitment and have mass effect, it must increase its use of sustainable materials in core ranges. It should also be more transparent about its supply chain, to gain consumer trust, and promote its instore recycling points more heavily on social media to raise awareness, as advertisements can get easily lost within its busy stores."
And Richard Lim, CEO of Retail Economics, adds while others are shying away from the high street, Primark continues to increase its market dominance through the acquisition of more physical space and investing in-store experiences.
"These solid numbers demonstrate that retailers offering a unique proposition, stand-out in the market and have a laser-like focus on executing their vision can continue to thrive.
"There's no doubt that market conditions are challenging but the retailer is activity reshuffling their store portfolio and benefitting from a weaker retail property market when renegotiating leases and rents. The investment in creating meaningful in-store experiences that merge services and entertainment to sit alongside their retail offering has driven sustainable levels of footfall."