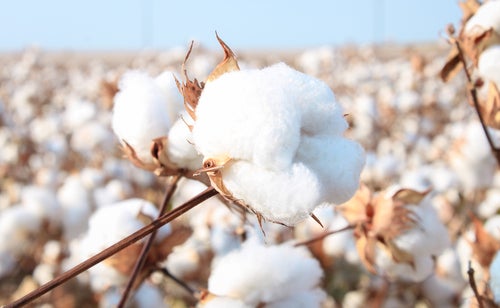 Published by Textile Exchange, its report 'Strengthening Integrity in Organic Cotton 2022', warns that upholding integrity in the organic cotton supply chain is difficult and that threats to integrity often evolve.
"We believe that integrity is critically important to the organic cotton supply chain, but equally we recognise that there are difficulties upholding this principle," the report reads. "Challenges in integrity are neither new nor unique to organic cotton, and they often evolve. We believe that putting the toughest possible restrictions in place, and then reviewing them frequently, is vital to preventing fraud, but so is helping others to recognise it, address it, and stop it from happening in the first place. At Textile Exchange, we continue to take a multi-faceted approach to strengthening integrity in organic cotton.
"Working with brands, producer groups, certification bodies, advocates and funders, we have committed to collective action. But we know there is more to do."
Challenges outlined by Textile Exchange include the gap in the volume of organic cotton reported to be used by brands and retailers and its own estimates of the volume of organic cotton actually produced. Supply chain actors also face supply insecurity, quality, and contamination issues, while most organic cotton farmers don't have access to good-quality non-GMO cotton seeds, don't have secure buyer relations, and often don't receive a price differential that offsets their efforts.
The report, however, focuses on action that organisations can take to join forces and "build a culture of integrity within the sector".
Key takeaways from the report:
Fraud occurs most often where financial pressure, opportunity, and the potential for rationalisation meet. This can be a result of underinvestment, the presence of loopholes, and the perception among supply chain partners that their efforts or the risks they're taking are not being rewarded fairly.
One way to prevent fraud is by putting restrictions in place and reviewing them frequently. But it is essential to get to the root cause of the problem, not just manage the symptoms. This means helping others through education, to recognise it, address it, and remediate the challenges that cause it to happen in the first place.
To fight fraud effectively and build a robust system of integrity, organisations need to go beyond building compliance through standards and certification towards achieving traceability for organic content, improving incentives for supply chain partners, and collaborating with others.
Organisations can start now by reviewing and mapping their supply networks to see where there are vulnerabilities to fraud, and then introduce and embed an anti-fraud and integrity policy. By monitoring the success of this strategy, organizations can then make adjustments and refinements. This should be part of adopting a policy of continuous learning and improvement.
Click here for the full report.