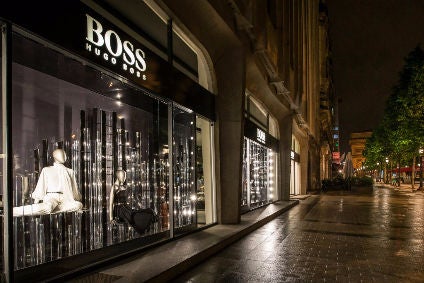 Shares in Hugo Boss were up by more than 5% this morning (22 January) as the German fashion brand hit its targets for 2018 and recorded acceleration in sales growth.
For the full year, group sales, excluding foreign exchange movements, were up 4% to EUR2.8bn (US$3.2bn), driven by the "dynamic growth" of the group's own retail business. In its own online business, Hugo Boss for the first time recorded more than EUR100m in sales.
Asia Pacific recorded the strongest growth where revenues were up 7% year-on-year to EUR410m, while revenues in the Americas and Europe, Middle East and Africa both increased by 4% to EUR574m and EUR1.74bn respectively.
Meanwhile, own retail sales were up 4% in the period to EUR1.77bn, while the Hugo brand achieved 6% sales growth to EUR2.42bn. The group's Boss brand, however, reported a 4% decline in sales to EUR374m. Menswear achieved 5% sales growth to EUR2.52bn, while womenswear saw a decline of 3% to EUR279m.
For the fourth quarter, currency-adjusted group sales were up 6% to EUR783m, with both the group's own retail business and the wholesale business recording "significant" growth.
Asia Pacific was once again the fastest growing region, while the group's own online business grew by 37% currency-adjusted in the period, marking solid double-digit rate for the fifth consecutive quarter.
"We look back on a successful 2018. We increased our pace of growth and achieved our full-year targets, supported by a very good fourth quarter," says CEO Mark Langer. "We are convinced to grow sustainably and profitably in 2019 and beyond. The new year will entirely be focused on the execution of our business plan until 2022. We will personalise our offerings even more and accelerate important business processes. In doing so, we drive brand desirability and set an important milestone for achieving our mid-term targets."
In November, Hugo Boss outlined a new strategic business plan, designed to increase the desirability of its Boss and Hugo brands through investments in speed and personalisation. The company also revealed targets to increase group sales by an average of between 5%-7% per year through the expansion of its online business and exploiting its growth potential in Asia.
The company, which will publish its full results for 2018 on 7 March, said it expects EBITDA before special items to be largely the same as in 2017 when it stood at EUR491m.