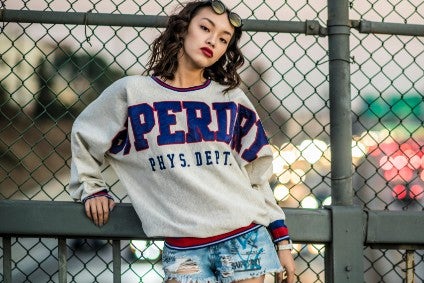 Superdry has reported a 23.3% decline in half-year sales with a modest improvement quarter-on-quarter to (22.8)% in Q2, which it attributes to the "challenging trading environment" as a result of continued disruption from Covid-19.
The retailer said like-for-like store trading in the last six weeks of H1 was (32.4)%, with UK trade impacted by continued social distancing measures, partially offset by a stronger performance in Europe where footfall declines have been less severe.
Its e-commerce division, it said, is performing well and strengthened through the second quarter with like-for-like sales up 51.9% in the last six weeks of H1. The improvement was driven by owned site sales, which increased 68.9% year-on-year coinciding with the launch of new AW20 product and the targeted clearance of aged stock.
The group has increased promotional activity to clear excess inventory, reducing full price mix and retail gross margin in the first half. This has been partially offset by the continued focus on both cost management and the cash preservation actions beginning in late FY20.
Given the continuing disruption, Superdry expects these margin dynamics to continue for the remainder of FY21.
Julian Dunkerton, CEO, said: "Covid-19 continues to disrupt our store and wholesale channels, but this is being partially mitigated by strong sales through our eCommerce operations. This has been an important period for Superdry, with the launch of our full Autumn/Winter 20 ranges and a true focus on using our social channels to reach our customers and bring our brand to reset to life. This activity is delivering record levels of engagement through our influencer-led Autumn campaigns, and we will focus our energies in this area over the coming months led by our new chief marketing officer, Justin Lodge.
"I am particularly proud of our new sustainable ranges, a key step towards our goal of becoming one of the most sustainable clothing brands in the world.
"The external outlook is very uncertain. However, we have the financial flexibility and are making good progress with our strategy and brand reset. We are determined to do the right thing by all our stakeholders – including colleagues, our retail and wholesale customers and investors – to ensure the business and brand returns to success."
Alex Hardy, analyst at GlobalData, says the pressure is on Superdry to deliver with its brand reset.
"The success of this launch will be key to the brand's turnaround, although the new lockdown throughout November in England is another kick in the teeth in a year of knockdowns, with 122 stores within its global portfolio closed as of today.
"Dunkerton's transformation plan is much needed for Superdry, whose standing in the market has declined in recent years. As of early morning trading, its share price has plummeted 92.5% since its peak in January 2018, with the brand fading in relevance as consumers are attracted by the wide ranges and lower prices of fast fashion players such as ASOS and boohoo.com, as well as the more desirable sports brands like NIKE and adidas. The focus on social media and influencer-led campaigns is a welcome and necessary move as Superdry aims to increase its appeal, especially among younger consumers.
"The retailer's priority of returning to a full-price stance has been hampered by the need for promotional activity throughout H1 FY2020/21 to clear excess inventory, which adversely impacted retail gross margin. Focus on cost management and cash preservation partially offset this, and cash balance has improved by GBP38.6m (US$50.6bn) to GBP22.2m compared to last year. When the full price proposition is achieved, whether consumers invest in Superdry's ethos of premium clothing will be crucial in determining its success. The emphasis on sustainability, with a target of 100% organic cotton in products by 2030, will help to support its vision and justify an elevated price."