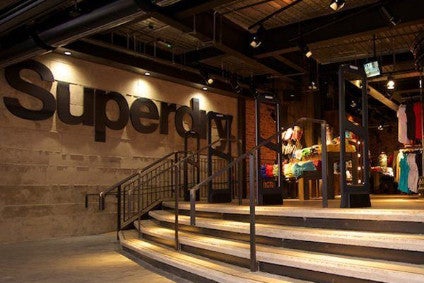 UK clothing retailer Superdry says while it is yet to see a sustained period of seasonally typical weather, the group has made "significant" progress in the first half against a challenging backdrop.
The firm warned last month that it is expecting its full-year to be hit by the impact of unusually hot weather in the UK, continental Europe and on the East Coast of the US – significantly impacting demand for jumpers and jackets.
Superdry's full-year profits are heavily influenced by its performance in the second half, led by cold weather products with jackets and sweats accounting for 55%-60% of autumn/winter sales. The group is currently six months into an 18-month plan to diversify its range to reduce reliance on winter sales.
"While some of our key markets saw colder weather conditions last week, with the result that our sales performance in those markets was more typical for this time of year, we have not yet seen a sustained period of seasonally typical weather," the group said in a pre-close trading statement today (8 November).
For the 26 weeks ended 27 October, global brand revenue increased 6.4% to GBP831.8m (US$1.1bn), compared to GBP781.6m in the year-ago period. Group revenue, meanwhile, was up by 3.1% to reach GBP414.6m.
Wholesale revenue continued to grow, up by 7.8% in the period, while e-commerce sales grew by 6.9%. Store sales were down by 2.3% on last year.
Despite falling sales at its bricks and mortar locations, average retail space rose 9.4%, with net growth of 33 additional franchise stores across 22 different countries in the period.
The group has also increased its focus on product innovation with the introduction of its first menswear Orange Label T-shirts made with 100% organic cotton. Superdry has committed that all of its cotton will be 100% organic as part of its SuperResponsible40 strategy.
"Superdry has made significant progress in the first half. We are six months into a product diversification and innovation programme and, as we said in the summer, it will take up to 18 months for the benefits to come through," said CEO Euan Sutherland. "In the meantime we are well prepared for peak trading and the team remains highly focused on the delivery of sales growth and further efficiencies in the remainder of the year.
"Superdry is a strong brand with significant growth potential, based not only on product diversification and innovation, but also on our category extension and geographic expansion opportunities and our ability to leverage our multi-channel operating model to serve customers in whichever way suits them best."
Emily Salter, retail analyst at GlobalData, notes Superdry can usually be relied on to deliver consistent double-digit sales growth but its latest results prove that no retailer is immune to the woes of the high street.
"Although the UK heatwave and House of Fraser were blamed for the retailer's comparatively poor performance, its growth has been slowing year-on-year signalling a longer term issue beyond these factors," she adds. "The retailer's prices are at the higher end of the midmarket which may alienate many potential customers, especially as many trend-led clothing retailers now sell athleisure and sports clothing at lower prices including H&M, Asos, and Topshop. Given the increased competition, Superdry is less able to capitalise on the health and fitness trend and sales are slowing as a result."