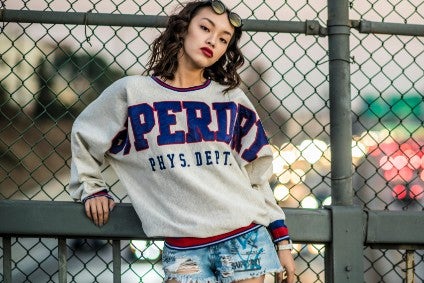 Superdry says its full-year sales fell 19.1%, severely impacted by coronavirus-related store closures that affected its fourth-quarter numbers.
For the year, sales came in at GBP705.5m (US$761.7m) versus GBP871.7m a year earlier. During the fourth quarter, sales fell 36.9% to GBP118.5m.
Store revenues fell 22.9% for FY20 and 57% in the fourth quarter. Superdry closed its first stores in Italy on 11 March and by 22 March its entire store estate was closed. A "controlled reopening" commenced in Germany, Sweden and Denmark on 24 April. It is expecting 130 stores to reopen across Europe by the end of May.
Ecommerce revenues fell 8.2% in the year but were up 6.8% in the fourth quarter. The group says revenues are likely to have benefited from a channel shift following the full closure of the retail store estate.
Wholesale revenues fell 20.1% in FY20 and were down 35.8% in the fourth quarter.
The group has furloughed 88% of staff and its board members and executive directors have taken a pay cut of 25% for three months, minimum. No annual bonus will be paid out to executive directors in FY20 nor will a final dividend be paid out in relation to FY20.
Julian Dunkerton, CEO said: "As with all retailers, the Covid-19 pandemic has caused major disruption to our business operations and supply chain. I am pleased with the accelerating shift in sales to online, and we've seen a particularly good performance from our women's ranges which, for the first time ever, are accounting for around half our sales. Clearly, however, the closure of all our stores has had a major impact. We are taking all practical steps to preserve cash, looking carefully at all areas of the business and working to secure additional liquidity and financial flexibility.
"We continue to work hard so that the business can emerge stronger from this extraordinary period. It will take time to return to normality, for now, we remain open for business online through superdry.com, our stores in Europe have begun to reopen and I am excited by our new ranges for the autumn/winter season."
Pippa Stephens, retail analyst at GlobalData comments: "Superdry's woes were amplified in its final quarter of FY2019/20, with the impact of the Covid-19 pandemic stifling demand for clothing and footwear. While its CEO Julian Dunkerton has had significant plans to revitalise the company, the outbreak has put a major spanner in the works.
"Though the retailer has recorded significant growth in its online channel throughout April, following closures of stores across Europe, USA and UK, this has only been enough to offset roughly a third of its usual offline revenue, so it must increase its use of social media and digital marketing communications to drive website traffic further. Alongside aims to increase the number of products sold online, and repopulating flagship stores with greater densities of stock, one of the main goals of Dunkerton's transformation plan was to become less reliant on promotions, with a return to full price sales…this will now prove to be increasingly difficult, as the closure of Superdry's stores will leave surplus amounts of stock remaining at the end of the season. As several fashion retailers have already been discounting new season stock to entice spending, Superdry is likely to feel pressured to change its approach throughout the pandemic, but must ensure that this does not risk causing greater damage to its brand perception."