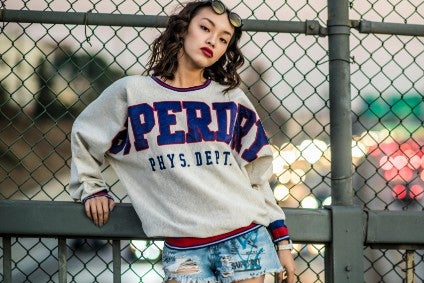 UK clothing retailer Superdry has warned it expects full-year underlying profit before tax to come in below market expectations following a "poor" wholesale and e-commerce performance in the fourth quarter.
In a pre-close trading statement today (9 May), the company said global brand revenue slipped 5.2% to GBP406.3m (US$527.6m) for the 13 weeks ended 27 April, from GBP428.6m a year ago. Group revenue was down 4.5% to GBP187.8m.
For the full year, Superdry noted a 3.6% uptick in global brand revenue to GBP1.74bn, while group revenue was flat at GBP871.7m.
Specifically, wholesale revenue was up 3.6% to GBP335m year-on-year, though declining 9.3% in the fourth quarter. The quarterly decline was driven by increased levels of returns, lower than anticipated in-season orders, and the decision not to ship to customers who had reached their credit limits, Superdry said.
E-commerce revenue, meanwhile, edged up 1.6% year-on-year to GBP163.7m but slipped 3.9% in the fourth quarter. Performance was impacted by the reduction of year-on-year discounting, including the removal of planned promotional activity at the end of the quarter.
Store performance improved in the 13-week period, growing 2.2%, but was down 3.7% to GBP373m year-on-year.
As a result of what it called the "weak" wholesale and e-commerce performance, along with other measures to deliver the new operational strategy, Superdry now expects FY19 underlying profit before tax to be lower than the current range of market expectations – a range of GBP54.1m-GBP59.4m.
Meanwhile, Superdry added its comprehensive programme to deliver GBP50m gross cost savings by FY22 continues, noting in the five weeks since the change of management on 2 April, interim CEO Julian Dunkerton has already identified "immediate opportunities" to improve the efficiency and performance of the business and taken action to implement these opportunities. Immediate actions have included:
Increasing the number of options sold online with those additional options generating full price sales.
Repopulating selected flagship stores with a greater density of stock.
Reducing unnecessary promotional activity resulting in enhanced margins and strengthening the brand.
500 new products to be introduced in the first six months.
A further update on the firm's strategic progress will be provided when full year results are released on 4 July.
Amy Higginbotham, retail analyst at GlobalData, notes a poor fourth-quarter has exacerbated Superdry's woes and dragged down overall performance for the year, with the clothing specialist now expecting underlying profit before tax for FY2018/19 to be lower than market expectations of GBP54.1m and "far below" the GBP97m achieved last year.
"The lack of detail regarding Julian Dunkerton's long term plans to turn the retailer's fortunes around is not very reassuring, and investors will no doubt be eagerly awaiting a more detailed update in July," she says.
"Dunkerton has indicated that he does not intend to go ahead with the previous management's plans to enter childrenswear, and will instead focus on targeting teenagers, though this will require the retailer to justify its high price points, which could be done using brand exclusives and celebrity endorsements.
"The outlook for Superdry remains challenging. Though a new executive team will take Superdry in a much-needed new direction and eventually provide more stability, the board still lacks a clear strategy to turn the retailer's fortunes around, and any new initiatives will take time to bear fruit."