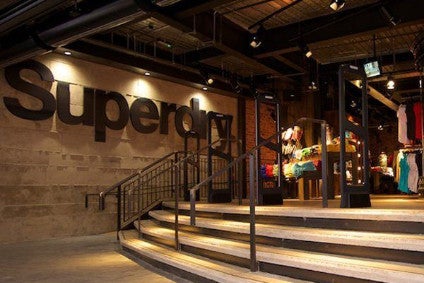 Shares in Superdry tumbled today (10 January) after the UK clothing retailer warned its annual, underlying pre-tax profits could be eliminated following a double-digit drop in sales over the Christmas trading season.
In a trading update covering the ten weeks to 4 January, Superdry said despite a strong Black Friday, peak trading performance has been lower than expected as the group continues its transition to a full-price stance.
Superdry is midway through a turnaround plan, committing to move the business away from a "reliance on constant promotions" and reignite brand appeal.
It said unprecedented levels of promotional activity, coupled with subdued consumer demand immediately after Christmas and shortages of some better-selling product, adversely impacted sales during peak trading.
Superdry added while initial customer reaction to the new management team's autumn/winter 2019 stock has been encouraging, it was not sufficient to offset weaker trading on older product.
"In aggregate, these factors have led to lower than anticipated retail sales of GBP23m (US$30.1m) since Black Friday, predominantly online," Superdry said. "Whilst we are encouraged by response to the limited ranges that we have introduced, this challenge will remain until the new design philosophy and product can be fully implemented across the entire range, with full impact expected by the launch of autumn/winter 2020.
Group revenue in the ten-week period tumbled 15.8%, with store sales sliding 18.5% and online revenue down 9.3%.
Taking into account Superdry's revised sales expectations for the balance of the financial year, and the "challenging trading environment", the company said it now expects underlying profit before tax to be in the range of zero to GBP10m.
"Everyone at Superdry continues to work intensively to deliver the turnaround of the business. While we have always said it will take time, we continue to make progress in implementing our strategy. A key element of this is to focus on and return to full price sales and reduce promotional activity, and we halved the proportion of discounted sales over our peak trading period, benefitting both our margins and the Superdry brand," said CEO Julian Dunkerton.
"However this adversely affected our sales during the peak trading period given the level of promotional activity in the market. Despite this, our disciplined plan to reinvigorate the brand and return Superdry to sustainable long-term growth is on track."
At the time of writing, Superdry shares stood at 401.08p, down 14.99% on the day.
What the analysts say
James Yacoub, retail analyst at GlobalData, notes Superdry has claimed the decline in revenue across all channels is down to its focus on a full-price stance, subdued consumer demand and shortages of some of its better-selling products as well as timing issues.
"During a period of transformation some hiccups are to be expected, however problems such as timing issues and failures in inventory management indicate that Dunkerton has not yet been able to significantly impact the product proposition and in turn, the sales performance," he says.
Meanwhile, Yacoub adds there remains an overarching emphasis on returning to full-price sales alongside revitalising the product range, but notes Superdry must focus on speeding up the implementation of its "new design philosophy" which it announced will not have full impact until autumn/winter 2020.
"While the product offer is being addressed, given the speed of degradation of the "old philosophy" stock, the retailer must place greater urgency on its design transformation strategy otherwise it risks losing further market share to more nimble competitors. One example being JD Sports that has gone from strength to strength through constant evolution implementing an effective merchandising strategy which resonates with its target audience whilst also partnering up with prominent influencers, helping to keep the brand relevant.
"Superdry must now ensure it utilises the expertise of its new creative ex-Nike executive Phil Dickenson help rapidly restore its style credentials so that it can justify its full-price proposition and breathe some trend-focus into its brand to regain its long lost "cool-factor".
Elsewhere, Richard Lim, CEO of Retail Economics, notes double-digit declines across the group and a "woeful" online performance demonstrate just how far Superdry has fallen behind its competitors.
"It appears that Superdry is another victim of positive Black Friday sales coming at the expense of Christmas trading. Rationale consumers pulled forward their Christmas shopping at discounted prices leaving the traditional peak sales period void for retailers," he adds.
"Disappointing post-Christmas clearance sales also showed that discounting fatigue set in by the time retailers are ready to clear wanted stock."