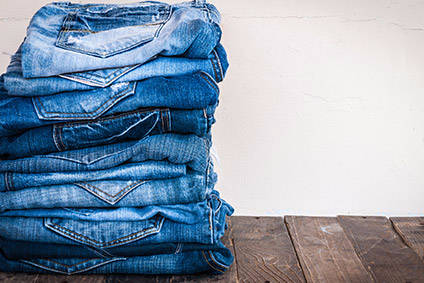 Kontoor Brands says Indian lifestyle and fashion conglomerate Arvind Limited and Cone Denim, a global specialist in denim authenticity and sustainable innovation, will share key data from the denim dyeing process that is currently not factored into the Higg MSI. The companies plan to roll out the updated Higg MSI tool for all apparel brands by summer 2022.
"The Higg MSI is the most comprehensive tool on the market for evaluating the environmental impact of apparel and footwear materials and was designed to evolve as new data becomes available, helping shift the industry at scale," says Jeremy Lardeau, vice president Higg Index at the Sustainable Apparel Coalition. "We're excited to add denim-dyeing-related process impacts to the Higg tool for all apparel companies to use."
Launched a decade ago, the Higg MSI helps designers and product developers make more sustainable choices during materials selection and can compare the impacts of various materials, trims, and packaging of apparel products. The tool is built on widely accepted, science-based data and metrics and is intended to quantify environmental impact throughout the production cycle. The Higg MSI measures environmental impact across five areas: Global warming potential, pollution in water, chemistry, water scarcity, and fossil fuel depletion.
"Data-driven decisions produce the best outcomes," says Dhruv Agarwal, senior director of global innovation, sustainability, and product development at Kontoor Brands. "We believe the Higg MSI is an invaluable tool for assessing the environmental impact of processes and materials used in our products. Through this work, our industry will be able to have a more complete picture of denim's impact, and our product development teams will have better insight into the environmental footprint of our products, empowering us to make more sustainable design choices."
Kontoor, Arvind, and Cone are committed to building upon the denim-related information within the Higg suite of tools to further standardise measurements of value chain sustainability and provide greater transparency to apparel companies during product design and development.
"We are excited to explore and advance tools and resources, like the Higg MSI, that align with our customers' goals to design and produce sustainable apparel," adds Steve Maggard, president of Cone Denim. "We welcome the opportunity to collaborate with like-minded companies, such as Kontoor, to bring transparency to the supply chain. Cone Denim has made considerable capital investments in our manufacturing that is focused on creating responsible and sustainable products and we look forward to the verification of our initiatives' results."
Kontoor recently said it sourced 50% of its cotton sustainably in 2020 and is on track to achieve 100% sustainable cotton in all products by 2025.