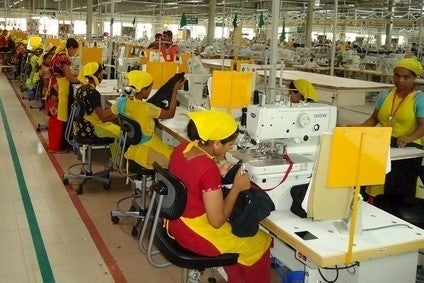 Sweden has assured Bangladesh it will not be cancelling garment orders from the country.
Local press reports have cited a conversation between Sweden's Prime Minister, Stefan Lofven, and Bangladesh's Prime Minister, Sheikh Hasina, during which Lofven assured Hasina his country would not cancel any garment orders and will continue to import ready-made garments (RMG) from Bangladesh.
Hasina informed Lofven Bangladesh factory owners have reopened factories while maintaining health directives issued by the government.
According to the Embassy of Sweden to Bangladesh's website, Swedish imports of all goods from Bangladesh stood at SEK3.2bn (US$326.3m) in 2017 compared with SEK2.7bn in 2014. In the textiles and RMG sectors, it says "there are significant opportunities for growth in our trade relations."
Meanwhile, the Bangladesh Garment Manufacturers and Exporters Association (BGMEA) has said it has opened a hotline to assist its member factories to deal with the outbreak. Members are strictly advised to inform the BGMEA via the hotline if any of their workers are suspected of having the virus.
Yesterday (29 April), one factory revealed it alone has seen US$10m worth of orders cancelled since the outbreak began.
The factory is just one of a vast number to see orders cancelled or payments delayed as retail stores around the world are forced to close as part of country-wide lockdown measures to try to stem the spread of the virus.
New Look recently said it was halting supplier payments and new orders. A retail supplier engagement specialist, Solutions for Retail Brands (S4RB), warned the move could cause "irreparable damage to New Look's supply chain," and that its supplier relationships will take years to repair – if at all.
Prior to this, Primark was widely criticised for cancelling all orders with its suppliers after closing its stores on 22 March. The retailer has now, however, set up a fund to cover the wages component of orders that it cancelled in Bangladesh, Cambodia, India, Myanmar, Pakistan, Sri Lanka, and Vietnam, and has extended support to its suppliers by committing to pay for GBP370m (US$461m) worth of additional orders, over and above the GBP1.5bn of stock already in stores, depots and in transit.