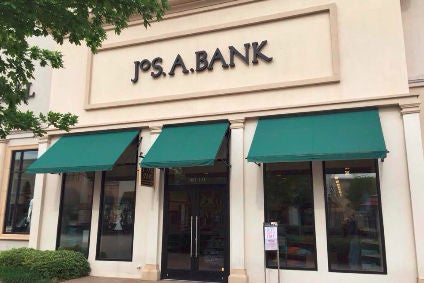 US menswear retailer Tailored Brands, owner of the Men's Wearhouse, Jos. A. Bank, Moores Clothing for Men and K&G brands, has filed for Chapter 11 bankruptcy protection.
In a statement yesterday (2 August), the firm said it has lodged the voluntary petitions in the United States Bankruptcy Court for the Southern District of Texas.
Tailored Brands has entered into a restructuring support agreement (RSA) with 75% of its senior lenders. This outlines agreed-upon terms for a pre-arranged financial restructuring plan that is expected to reduce the company's funded debt by at least US$630m and provide increased financial flexibility to generate profitable growth.
The company has received commitments for $500m in debtor-in-possession (DIP) financing from its existing revolving credit facility lenders. Following Court approval, this financing, combined with cash on hand and cash flow generated by the retailer's ongoing operations, is expected to be sufficient to meet its operational and restructuring needs. The RSA further contemplates that the DIP financing will convert to a $400m revolving credit facility from existing lenders upon Tailored Brands' emergence from Chapter 11.
"As evidenced by the positive results we saw in January and February, we have made significant progress in refining our assortments, strengthening our omni-channel offering and evolving our marketing channel and creative mix. However, the unprecedented impact of Covid-19 requires us to further adapt and evolve," said Tailored Brands president and CEO Dinesh Lathi. "Reaching an agreement with our lenders represents a critical milestone toward our goal of becoming a stronger company that has the financial and operational flexibility to compete and win in the rapidly evolving retail environment."
The move comes after Tailored Brands said last week it could seek bankruptcy protection as early as the third quarter as the Covid-19 pandemic continues to batter sales.
The decision builds on plans outlined by the retailer on 21 July to reduce its corporate workforce by 20% and the identification of up to 500 retail stores for potential closure as well as associated opportunities to reduce and realign its supply chain infrastructure.
Throughout the restructuring process, the company expects that its four retail brands, Men's Wearhouse, Jos A. Bank, Moores Clothing for Men and K&G Fashion Superstore, will continue to serve customers.
The retail group joins others that have succumbed to bankruptcy during the pandemic, including Ascena Retail Group, J.Crew, JCPenney, Neiman Marcus and Brooks Brothers.