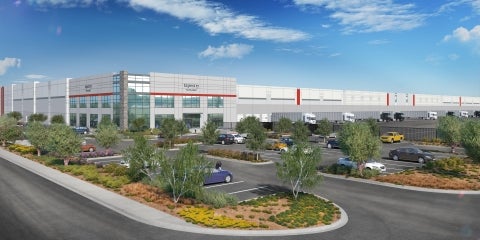 New York-based Tapestry says its new Fulfillment Center in North Las Vegas (NVFC), which is expected to add over 400 full-time jobs by 2029, will leverage a Goods-to-Person system to increase efficiency, speed, and storage capacity through automation and interaction with management systems to optimise the allocation processes.
Serving Coach and Kate Spade, the facility is designed to distribute an annual 22.2m units and hold 4m units in inventory for both retail and e-commerce. Upon expected completion in 2022, the NVFC will span over 788,000 sq ft and is said to be Tapestry's largest and most technologically advanced facility to date.
Additionally, in alignment with Tapestry's commitment to reduce its direct environmental impacts and increase its focus on renewable energy, the NVFC project is being designed for LEED Gold certification. The new site will be partially powered by a solar array on its roof, use innovative landscaping to minimise water usage, have energy-efficient lighting throughout the facility, and feature electric vehicle charging stations.
"The new North Las Vegas Fulfillment Center is another example of the power of Tapestry's unique platform, which allows us to scale innovation across our brands and channels and support continued growth," says Joanne Crevoiserat, CEO of Tapestry, Inc. "We are delighted to join the North Las Vegas community with this facility which will include cutting-edge technology solutions that enable us to better serve our West Coast customers."
The Tapestry Foundation is also supporting the greater Las Vegas community with a $50,000 grant to United Way of Southern Nevada to fund community programmes, which include education, emergency shelter, food support, health services and crisis support. This donation builds on Tapestry's recently announced actions to drive positive change for its people, planet and community.
In September, the company signed the Science Based Targets initiative (SBTi) Business Ambition for 1.5 degrees Celsius. This means it is committed to setting interim science-based emissions reduction targets to limit global warming to 1.5 degrees Celsius and to reach net-zero global emissions by 2050 at the latest.