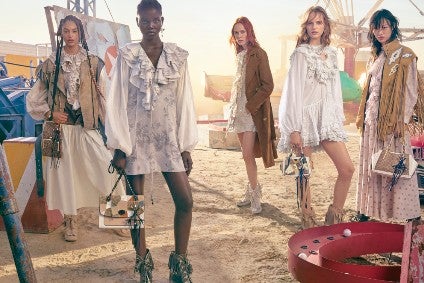 Coach brand owner Tapestry Inc has returned to profit in the third quarter and outperformed its revenue outlook for the period with a 19% hike in sales.
For the three months to 27 March, net sales rose to US$1.27bn, compared to $1.07bn a year earlier. Net sales at the Coach brand were up 25% to $964m, representing a return to pre-pandemic revenue levels.
Those at Kate Spade, meanwhile, edged up 1% to $252m from $250m last time, with net sales for the current quarter including an impact related to a strategic pullback in lower margin wholesale disposition sales. Net sales for Stuart Weitzman were up 13% to $57m, including the negative impact of a North America wholesale timing shift into the fourth fiscal quarter.
Net income for the quarter was $92m on a reported basis, compared to a net loss of $677m in the prior-year period. On a non-GAAP basis, net income amounted to $145m, compared to a non-GAAP net loss of $76m last time.
"Our third-quarter results significantly outpaced expectations, underscoring the power of the Acceleration Program and enthusiasm for our brands. Through a sharpened focus on the consumer, we fuelled new customer acquisition at Coach, Kate Spade, and Stuart Weitzman and delivered robust sales growth led by digital and China," CEO Joanne Crevoiserat says.
"Building on this momentum, we are increasingly optimistic about our ability to generate sustainable top and bottom-line growth. Looking forward, while the environment remains volatile, we see encouraging signs of recovery as vaccination efforts progress, resulting in increased consumer confidence, strong demand for our categories, and improving in-store traffic trends."
Given what it called better-than-anticipated results year-to-date, and assuming a continued recovery emerging from the pandemic, Tapestry now expects revenue for the fiscal year to increase at a mid-teens rate compared to the prior year on both a 52 and 53-week basis.
Headed in the right direction
Neil Saunders, managing director of data and analytics company GlobalData, notes this time last year, Tapestry's overall sales were down by 19.4% as pandemic-induced disruption reduced trade during late March.
"It is, therefore, not surprising that this year's growth figures appear very heady with total revenue up by 18.7%. On the surface, this indicates that the group is recovering well, and that the momentum seen over the past couple of quarters is picking up speed. However, compared to the same period in 2019, sales are down by a modest 4%, which underlines that there is a little way to go before Tapestry is back to normalised levels of trading.
"Coach remains the star brand, with sales up by 25% compared to last year. That revenue is flat on 2019 indicates the division's recovery is largely complete. Performance was strong across most regions, with particularly solid gains in Asia where Coach has been expanding distribution in China to reach a wider audience. Europe was a slight weak spot, largely thanks to continued lockdowns and a resurgence of the pandemic in some countries. However, the region represents a relatively small proportion of revenue, so its lackluster performance was more than offset by good gains elsewhere.
"Within the US trade has picked up nicely for Coach, with an injection of stimulus helping to boost the spending power of consumers over the quarter. While handbags and fashion were not necessarily the main beneficiaries of stimulus checks, some people did opt to treat themselves with their windfalls which was helpful to Coach. We continue to see a trend of consumers being more willing to invest in handbags and expensive accessories than they are in clothing and apparel. This is mainly on the basis that such items have more longevity and can be used as and when the pandemic ends. This trend has been beneficial for Coach.
"At Kate Spade, sales grew by a more modest 1.2%, and compared to 2019, revenues remain down by 16%. Within the wider retail market, the recovery in apparel is building and more consumers are starting to buy products beyond sweatpants and athleisure garments. However, demand is not yet fully back to normal and likely won't be until society reopens. Against this backdrop, Kate Spade's weaker numbers are understandable. Progress is also being made in categories like accessories and handbags, which is helping to offset the more sluggish build-back in clothing. There is also a good digital engagement strategy with existing and past customers which, hopefully, should keep Kate Spade foremost of mind once the mood for clothing purchasing comes back.
"Stuart Weitzman posted growth of 13% off the back of a 41% sales decline last year. This means that the brand is still 33% down on the same period in 2019 and so is nowhere near back to normal trading levels. The number of people buying footwear is growing, but formal footwear sales are recovering at a much slower pace than other fashion categories. As such, we expect the build-back at Stuart Weitzman to be protracted, even if we are encouraged that the division is headed in the right direction.
"Overall, this has been a good quarter for Tapestry and the figures underline that the group is headed in the right direction. Some very sensible investments have been made in digital activities, and these have helped to expand the audience to younger consumers – especially for Coach. Expenses and inventory have been well managed, and reduced discounting has improved margins. The group is now firmly back in the black in terms of profit and has good prospects for a further expansion of both the top and bottom lines in the quarters ahead."