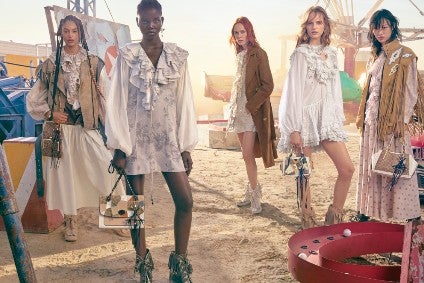 Shares in Tapestry surged yesterday (9 May) as the accessories business announced a US$1bn share buyback programme and reported a third-quarter profit that surpassed analyst expectations.
In the three months ended 30 March, earnings amounted to US$117m, on a reported basis, compared to $140m in the prior year period. Gross margin for the quarter widened to 69.2% from 68.9% the year before. Meanwhile, net sales were up 1% on a reported basis and 2% in constant currency to $1.33bn from $1.32bn.
Net sales for Coach edged up to $965m for the third fiscal quarter, as compared to $969m in the prior year on a reported basis, or an increase of 1% on a constant currency basis. Global comparable store sales increased 1%, including a benefit of around 100 basis points driven by an increase in global e-commerce.
At Kate Spade, net sales reached $281m from $269m last year, an increase of 4% on a reported basis and 5% in constant currency, while global comparable store sales declined 3%, including the positive impact of approximately 700 basis points from global e-commerce.
Net sales were also up at the Stuart Weitzman brand, totalling $85m for the third fiscal quarter compared to $84m reported in the same period of the prior year, an increase of 2% on a reported basis and 4% in constant currency, while gross margin was 54.3% as compared to 54.1%in the prior year.
"We are pleased with our third quarter performance, highlighted by increases in sales and gross margin on a constant currency basis in each of our three brands. Most notably, we again drove positive comps at Coach and generated a significant sequential comp improvement at Kate Spade with Nicola Glass's new collection resonating with consumers globally," said CEO Victor Luis. "Further, we continued to make key investments across our portfolio and to realise meaningful synergies from the successful integration of Kate Spade as we harness the power of our multi-brand model."
The group also announced its board of directors has authorised the repurchase of up to $1bn of its outstanding common stock, a move which, according to Reuters, marks its biggest buyback plan in nearly seven years.
"We're also excited to announce the approval of a $1bn share repurchase authorisation, demonstrating our confidence in driving long-term, sustainable growth and value," Luis added. "Through this programme we will optimise our capital deployment and enhance shareholder return, while maintaining our financial and strategic flexibility. Importantly, we remain committed to our longstanding capital allocation priorities supported by our strong balance sheet and free cash flow: investing in our brands and business, pursuing strategic acquisitions on an opportunistic basis and maintaining our dividend."
Looking ahead, Tapestry expects revenues for fiscal 2019 to increase at a low-to-mid-single-digit rate from fiscal 2018. In addition, the company projects earnings per diluted share in the range of $2.55 to $2.60.