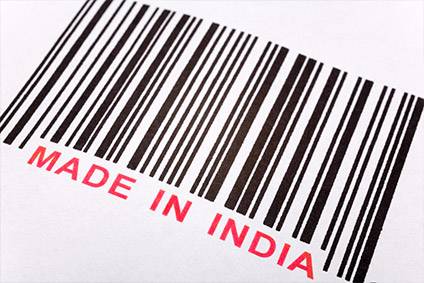 New tax benefits for India's garment exporters should help it to score more international orders, according to the country's apparel industry associations.
In March the central government announced new tax benefits for the country's garment exporters.
Rahul Mehta, president of Clothing Manufacturing Association of India, told just-style, the combined reduction in costs delivered by a refund of the central and state taxes, new benefits under the Merchandise Exports from India Scheme (MEIS), and renewed 2% duty drawbacks, would make the industry "more competitive".
The first two reforms were grouped together in a new scheme dubbed the 'Rebate of State and Central Taxes and Levies on export of garments and made-ups' (RoSCTL). A related government communiqué stated that it aimed to follow "the recognised international economic principle of zero-rating of export products". The duty drawbacks will be refunded directly into the accounts of the exporters while the remaining 7% to 8% tax benefits, which will vary according to the product exported, will be compensated through government scrips that could be sold in the open market to companies paying any customs duties as duty credits.
The demand for such a scheme came after the July to September 2017 introduction of Goods and Services Tax (GST) which included a value-added tax system on exports, for which rebates were unavailable for several inputs, including fuel, electricity, legal documents and fertilisers for cotton production.
Premal Udani, chairman of the advisory board of Apparel Exports Promotion Council of India and the group chairman of knitted garment exporting company Kaytee India, told just-style: "It is only now that the government has found a mechanism to fully refund all the taxes."
The problems relating to the chaotic implementation of GST had a direct impact on Indian apparel exports, which declined sharply in 2018. While some growth was registered in recent months, according to data released by India's Directorate General of Commercial Intelligence and Statistics, there was a 3.39% year-on-year decline in the financial year ending March 2019. Indian manufacturers hope these new tax benefits will move it toward a more competitive position, already aided by negative developments in the other garment exporting countries.
"Bangladesh is becoming a little more expensive; China is continuing to exit labour-intensive industries; Vietnam has reached a kind of plateau, and Africa and Myanmar have not taken off as they have been expected to," said Mehta. "So now people are looking at India once again."
But challenges remain as India is not a market leader in any garment category, according to Sanjay Arora, business director at consultancy firm Wazir Advisors. "For denims and home textiles, buyers first got to Pakistan and then to India or Bangladesh. A vast majority of exported knitted fabric is manufactured in Bangladesh," he said. "Lately, Bangladeshi companies are also expanding very fast in setting up huge capacity for backend processes in spinning and weaving, especially in denim fabric, which has hurt Indian suppliers."
Furthermore, Indian exporters need to factor in sluggish demand from European and, to a lesser extent, United States markets and rising petroleum prices, said Udani. To see whether the tax breaks will have a real impact, "we have to see their impact on consumer buying and look for six to eight months of continuous growth (in garment exports)."