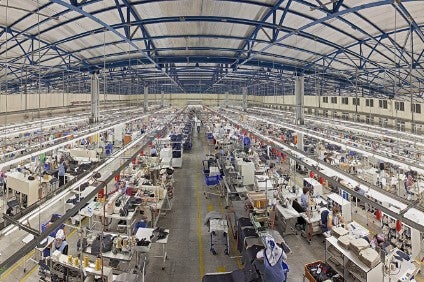 A new US$1.5bn joint venture facility under construction in Algeria's northwestern region in partnership with Turkish denim giant Taypa is being described as the largest clothing and textile manufacturing facility in the Europe and Eastern Mediterranean basin – and is due to start production this year.
The 250 hectare Tayal Spa facility in the Relizane region is set to produce 30m garments annually, along with 60m metres of denim.
The partnership sees the Algerian government own 51% of the organisation and the Taypa textile company have a 49% stake.
Its goal is to help transform the Algerian economy, diversifying it from an over-reliance on oil and boosting its struggling clothing and textile sector.
Turkish garments are considered good quality and the Algerian government wanted to capitalise on Taypa's 40 years of experience and knowledge around international standards.
Taypa currently has factories in Turkey and Egypt and offices in New York and London. It exports 80% of its production to around 50 countries, and is a supplier to major brands such as Levi Strauss, Tommy Hilfiger and Marks & Spencer.
The company was encouraged to participate in the new joint venture for geo-strategic reasons: Algeria is close to both European and sub-Saharan African markets identified as key by the Turkish clothing sector.
An awareness campaign is underway in the Relizane region encouraging young people to sign up for sewing courses to become sewers at the site. According to Taypa, 10,000 people will be employed when the first stage of the site is completed by the end of this year, with eight units planned to be operational. Up to 25,000 people will be employed over the next 10 years when the other stages are completed.
Already 450 sewers have been hired to handle the workload, which includes the manufacture of jeans, shirts, underwear, knitwear and T-shirts. An onsite training school is being built along with 560 homes for workers.
When the final phase of the JV is complete in three years' time, an additional 10 factories producing garments will be operational.
The US$1.5bn project was launched in response to the decline of Albania's textile industry, "which needs to be rehabilitated by reducing the country's imports of 90%," according to Abdeslam Bouchouareb, former minister of industry and mines.
Speaking at the inauguration of Tayal Spa, Mesut Toprak, CEO of Taypa, said: "We are determined to meet the challenge of competition, even if we are very close to fashion capitals, such as Paris, Milan, Barcelona and others."
"The production of jeans, shirts, underwear and other clothing such as jerseys and T-shirts in our country will allow our economy to recover from its decline as Turkish garments are of good quality," added Algerian trader Ahmad Goussam, who imports cloth from Istanbul.
Amar Takjout, secretary general of the Algerian Textiles and Leather Federation, told Algeria's national radio: "In 2018 we will manufacture 12m knitwear garments – T-shirts and underwear etc," at the site.
Taypa and its subsidiaries have structured their supply organisation in the Mediterranean Basin in order to provide fast, quality and sustainable service to global brands.
In Turkey, 3,000 people work at its own facilities in 4 different locations, producing 8m pieces of garments per year. In Egypt, 2,500 people work in its denim washing and garment plant, where 6m garments are made each year.
The Turkish company is also setting up a new denim washing and garment plant in Serbia, which is due to be completed by the end of 2018. Here it aims to employ 2,500 people and produce 7m pieces per year.
The company is also working to lower its sustainability footprint, and says it has reduced its electricity consumption by 8.6%, and its natural gas consumption by 31.9%. The percentage of chemicals it uses with an environmentally friendly certificate is currently at 80%, but the target is to reach 100%.