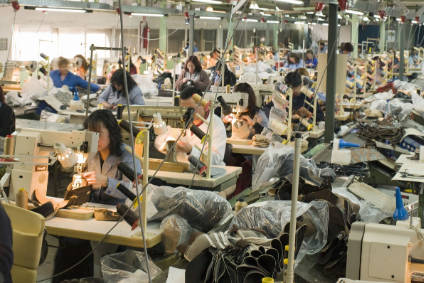 German retailer Tchibo is calling on European governments to regulate the textile industry, particularly when it comes to payment of living wages, adding that legislation is necessary for ensuring apparel brands and retailers are carrying out the relevant due diligence across their supply chains.
A multichannel retailer operating in Central and Eastern Europe, Tchibo's product assortment includes textiles as well as coffee and a range of non-food products and services that change weekly.
It has pursued the "strategic goal" of becoming a 100% sustainable company for the past 13 years and says, since then, much has been invested in supply chains and products. But the retailer's sustainability director, Nanda Bergstein, notes the company is now starting to realise barriers to its sustainability goal that can only be realised via multi-stakeholder collaboration.
"We want and we will continue to invest in sustainability, but today we are at a threshold where we can no longer significantly increase our investments without jeopardising our competitiveness," she says. "It is becoming increasingly clear that global and very complex problems can only be solved jointly by all those involved; industry, trade unions, NGOs and governments."
Making reference to the voluntary ACT on Living Wages initiative, Bergstein highlights an obstacle is that companies are given a choice on whether to join the programme or not. She says it is important that the same conditions should apply to all apparel brands and retailers.
ACT is currently the only initiative in the world with the potential to tackle the topic of living wages in the textile industry in the long term and sustainably but "we threaten to fail because not enough partners from the textile industry join in," Bergstein says.
Tchibo adds that in Cambodia, 21 textile brands are currently negotiating with the government and employers for the introduction of nationwide collective bargaining with the aim of raising wages to a level of living. The companies involved represent around 50% of Cambodian textile production. The government is worried, however, that the other half will leave the market at higher wages, weakening Cambodia's competitiveness. This example demonstrates the importance of public and unambiguous support from the respective governments of the distribution markets, the retailer says, adding "they must act on the governments of the producing countries and the companies buying in them to support ACT".
"A regulation that creates the same conditions for all market players in Europe is urgently needed. With voluntary initiatives of individual companies alone, we will not move fast enough and 'fair fashion' will remain an illusion," Bergstein says.