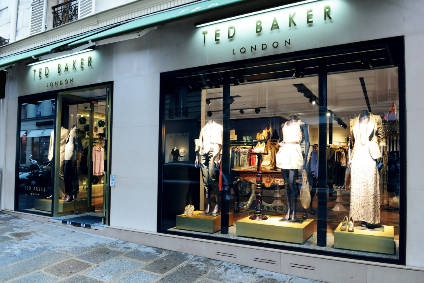 In a pre-close trading update for the 16-week period to 14 August, Ted Baker reported group sales growth of 50% compared to the prior year quarter. Reported retail sales increased 30% on last year but were 30% below the second quarter of FY2020.
The company said North American concessions, North American and UK shopping malls showed improved performance as consumer confidence recovered.
Store sales were up 142% on the same period last year but down 45% compared to two years prior.
"While many of our stores were open during the trading period, footfall remains below prior levels and continues to be stronger in out-of-town and regional locations where we have a smaller physical presence," Ted Baker said.
Group e-commerce sales, meanwhile, decreased 25% and represented 39% of total retail sales, reflecting a highly promotional stance last year ahead of balance sheet recapitalisation. Compared to the second quarter of FY2020, group e-commerce sales increased 17%.
Retail trading margin improved by over 500 basis points versus second-quarter FY2021 and 190bp versus the same period in FY2020 as the group prioritised its full price trading stance.
"We have made encouraging progress, with trading over the second quarter in line with expectations, albeit the speed of recovery is different across store locations and regions.  Full-price sales mix has significantly improved across all our retail channels as we continue to re-establish our premium lifestyle brand positioning," said CEO Rachel Osborne. 
"Our transformation programme remains on track, and we have moved forward on the three key pillars of our plan in refreshing and re-energising the product and brand, prioritising digital and capital-light growth and through our cost savings programme."
Osborne added the Ted Baker brand remains strong, citing YouGov's recognition of Ted Baker as the second most popular luxury brand in the UK. 
"Our product also continues to strengthen, and we are pleased by the start to the autumn/winter 2021 collections which is being well received by our customers.  Combined with our robust balance sheet and strong cash management we are well placed for the future.  It is still early days in the recovery, but we are confident that Ted is starting to emerge from Covid a stronger and more resilient business."
The group also noted while it made good progress on its new e-commerce platform, some technical aspects have taken longer than expected to fully resolve. 
"Given the proximity to the upcoming peak trading period and need to fully test its business readiness and stability ahead of implementation, we will move the go live date to early 2022," Ted Baker said, adding the date change will have no material impact on the performance of its e-commerce business.
Eleonora Dani, an equity research analyst at Shore Capital, notes: "The update represents the first quarter of growth since the pandemic as the brand benefitted from the recovered consumer confidence in the UK and North America."
Ted Baker will announce its results for the 28-week period ended 14 August on 11 November.