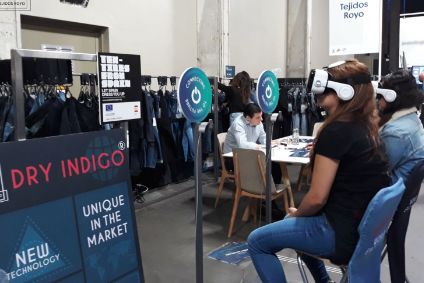 Spanish textile manufacturer Tejidos Royo has been credited by the European Union for its Dry Indigo yarn dyeing process that uses foam instead of water, fewer chemicals, and reduces energy usage.
The fabric mill has been chosen as one of the six most sustainable companies on the continent, having been named among the winners of the European Commission's European Business Awards for the Environment (EBAE) 2020-2021, which recognise companies that produce maximum economic value with minimum environmental impact.
Tejidos Royo was deemed the winner of the Business Process Award which recognises the successful application of an innovative solution in the area of process and production methods.
The firm's environmentally-friendly indigo yarn dyeing process eliminates 99% of the water typically used in indigo-dyeing, uses 89% fewer chemicals, and reduces energy usage by 65%.
"The jury was very impressed by this highly innovative dyeing process, which provides sustainable benefits that are clearly substantiated by evidence. The development of a waterless dying process for denim textiles has the potential to save vast amounts of water, energy and chemicals. The company is a pioneer in this regard and has persuaded its supply chain partners to cooperate. The jury praised the level of innovation and the potential for replication in one of the world's most polluting industries."
Tejidos Royo said it will continue to work for and with sustainable development in the textile sector, demonstrating that it is "no longer the polluting industry it once was."
The 2020-2021 competition received 94 applications from 16 European countries.