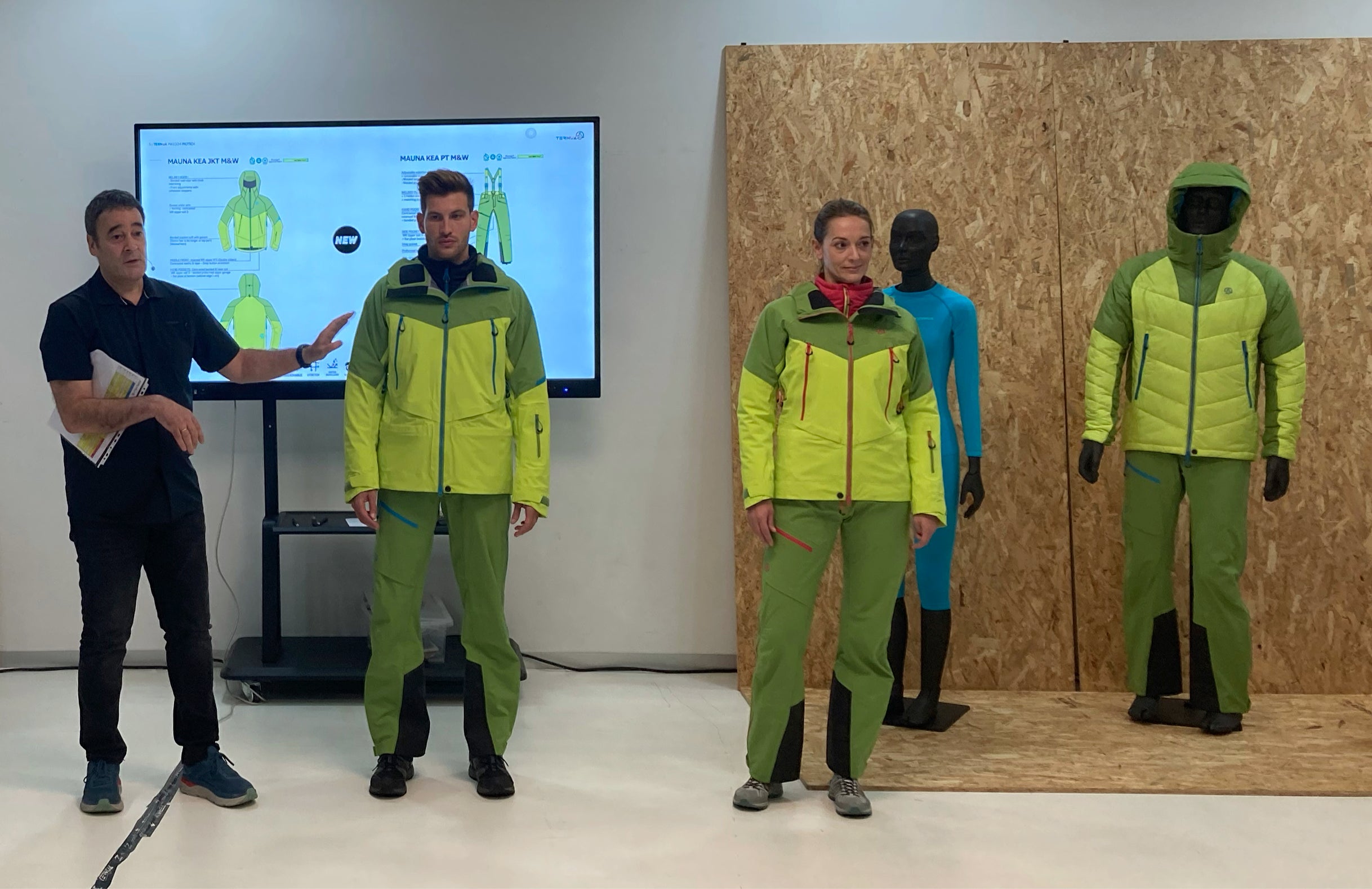 Ternua, the Spanish sustainable outdoor brand, is launching its 'Protech' line made with 100% recycled materials as part of its fall-winter 2023-24 collection today (7 October).
The brand says its R&D department used highly innovative and environmentally-friendly textiles and treatments, showing technicity and sustainability can go hand-in-hand for alpine activities and keep people protected while doing so.
The new products feature the Mauna KEA JKT and PT models that are designed with the Shelltec Active Flex textile, which provides a 20k/20k impermeability-transpirability relationship; protecting mountaineers in adverse climate conditions.
The textile is extremely strong and a little elastic, added Ternua, which gives the garments maximum comfort. The brand continues the ISPO 2021 winning Rakaposhi JKT that was initially developed specially for Japanese mountaineers Ternua Kazuya Hiraide and Kenro Nakajima (2020 Piolet d'Or prize), where all the technical needs of climbers and mountaineers were taken into account.
Other third layers, like Amphu JKT (Primaloft gold luxe and Pertex Quantum insulation outside), the Sharpu 2.0 JKT (Primaloft gold pure and Pertex Quantum insulation outside), Jugal JKT (Stormfleece Pro) are also in the line.
Moreover, the Elbrus PT pants, designed with a textile that comes from recycled fishing nets as part of the Redcycle project with Shellstretch Prowool technology, are a part of the collection as well.
Ternua said: "A lot of work was put into the line, where the ergonomic and functional factors used in the garments follow the guidelines set by the focus group with prestigious mountaineers like Alberto Iñurrategi, Oriol Baró, Miriam Marco and Iker Madoz who did field tests in winter in the Pyrenees."
All the garments have a specific model with different patterns for men and women. They have PFC waterproofing treatment and can be combined with clothing from other lines of the brand.
The brand uses materials that are recycled to make its clothes;nsome of which include carpets, fishing nets, plastic bottles, plastic collected from the sea, feathers, coffee grounds, wool, discarded clothing and walnut shells.
Currently, all their products have the 'commitment label', which certifies that each garment has been made with recycled or natural biodegradable materials, organic cotton or Bluesign or Oeko Tex certified materials.