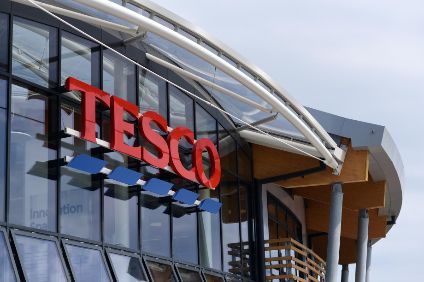 UK supermarket retailer Tesco had reported its fifth consecutive Christmas of domestic growth despite what CEO Dave Lewis has called a "subdued UK market."
In its third-quarter and Christmas trading statement published today (10 January), Tesco reported a 0.2% total sales rise in constant rates for its UK and Republic of Ireland (RoI) operations for the six weeks to 4 January. Like-for-like sales were up by 0.4%.
Total group sales, however, fell 1.7% in the period, with like-for-like sales slipping 0.8%.
"In a subdued UK market we performed well, delivering our fifth consecutive Christmas of growth," said CEO Dave Lewis.
For the 19 weeks including both the third-quarter and the festive period, Tesco booked a 0.1% rise in actual rates for its UK and RoI operations. In constant rates, total sales for the region were up by 0.2%, with like-for-like sales up 0.4%.
Group sales in the period, however, were down by 1.1% in actual rates and by 1.5% in constant rates. Like-for-like sales declined by 0.9%.
"Whilst the UK environment has clearly been challenging, the combination of our attractive customer offer and strong operational delivery enabled us to outperform the market once again, following on from our strong performance last year," Lewis added.
Thomas Brereton, retail analyst at GlobalData, notes Lewis's final Christmas in charge of Tesco has "undoubtedly been a merry one", at least, for its UK and ROI operations.
He adds: "While UK like-for-like sales fell 0.2% over the 19-week period as a whole, Tesco's statement title of 'strong performance in a subdued UK market' is spot on; considering the same figures for a similar period of -0.7% at Sainsbury's and -1.7% at Morrisons, Tesco appears head and shoulders above its Big Four rivals going into the New Year."
All in all, Brereton says when new CEO Ken Murphy arrives from Walgreens Boots Alliance in mid-2020, he will find "a carefully honed" Tesco UK business running at the top of its game.
"While there is certainly work to be done on the international side (including a drastic reshaping in Central Europe and a likely sale of at least parts of its underperforming Asian business) the robust UK and RoI operation will afford him some breathing space to trial ambitious initiatives that its rivals may not be able to afford."
Last month the supermarket chain, which is one of the UK's largest clothing retailers, confirmed it is weighing up plans for its Asia retail business, which could result in the sale of Thailand and Malaysia-based stores.